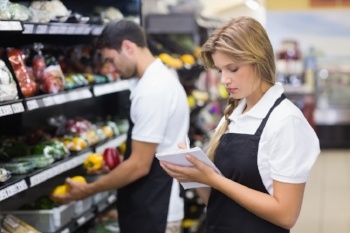 Grocery retail has never been more cutthroat. With razor thin profit margins and new pricing pressure from Amazon, Lidl, and ALDI, U.S. food retailers must adapt quickly in order to remain competitive and appeal to shifting consumer preferences.
Based on the latest studies by the market research firm Packaged Facts, here are four disruptive food industry trends to keep on an eye on in the coming months and years.
1. Deep-Discount Battle Heats Up
Even though the U.S. job market has improved since the recession, many consumers are still looking to pinch their pennies where they can— and value grocery stores are booming.
Supercenters (such as Walmart) draw 177 million U.S. adults as monthly shoppers (more than traditional supermarkets).
Wholesale clubs (such as Costco) attract 91 million.
Dollar stores bring in 53 million.
Discount/limited-assortment grocery chains like ALDI kick in 42 million.
The German chain Lidl plans to open 100 stores per year in the U.S. Known for its competitive prices and private-label brands, Lidl operates in 27 countries and is Europe's largest discount grocery chain. It features smaller stores with just six aisles that allow people to get in and out quickly.
Lidl's competitor ALDI is already on the defensive, and Walmart is testing a low-price strategy to undercut these retailers. Both Target and Walmart have also begun investing in smaller grocery retail formats.
Find Out More → The Future of Food Retailing: Value Grocery Shopping in the U.S. explains key trends and opportunities for supercenters, wholesale clubs, dollar stores, and discount/limited assortment chains.
2. Amazon Helps Transform Grocery Retail
As Amazon leverages its acquisition of Whole Foods Market, its every move will be closely watched by competitors large and small. In 2018 and 2019, Amazon's online food and beverage sales are expected to grow 70%, according to Packaged Facts. Even with average growth during 2021 and 2025, Amazon's food and beverage sales would surpass $30 billion.
While Amazon is not expected to dominate the food and beverage industry, it will help move prices downward in an industry where margins are already notoriously thin, according to David Sprinkle, research director, Packaged Facts.
"This will in turn likely result in additional industry mergers and alliances geared toward managing costs, as other retailers seek to stay in the game with a competitor long known to absorb heavy losses over time in its quest for market share," Sprinkle explains.
Find Out More → To get more in-depth information about how Amazon is shaping grocery trends, read the newly published Packaged Facts report U.S. Grocery Market Focus: The Amazon Food Shopper.
3. Online Grocery Sales Surge Higher
Online grocery sales will hit $41.7 billion by 2022, growing at an astonishing compound annual growth rate of 27.1%, according to recent estimates. Online grocery sales still represent a relatively small portion of overall food and beverage sales in the U.S., and marketers have a long runway for growth.
The increased use of smartphones, enhanced website and app interfaces, and crowd-sourced business models are all helping to fuel growth.
Industry players are working feverishly to secure a competitive advantage in this quickly shifting market. Amazon has leveraged its Amazon Prime Membership to entice customers to buy groceries online, and with its acquisition of Whole Foods Market, it can quickly add grocery pickup points for online orders across the nation.
Walmart is working to expand its curbside grocery pickup service to nearly half of its stores by the end of 2018. However, a key challenge going forward for both these retailing giants is improving customer trust in perishable selection and delivery. Other marketers to watch include Kroger, Albertsons, Peapod, Fresh Direct, and Instacart.
Find Out More → Online Grocery Shopping in the U.S. provides in-depth analysis of the online sales of groceries based on a proprietary national consumer survey and interviews with grocery experts.
4. Meal Kits Gain Popularity
Meal kit delivery services have skyrocketed in popularity, reaching $5 billion in sales, as consumers seek greater convenience and fresh, home-cooked foods.
Although Blue Apron's IPO was generally considered a bust, Packaged Facts expects strong growth for meal kit delivery services overall. Meal kits have real staying power:
Three-quarters of U.S. adults have heard of meal kit delivery services.
25% of U.S. adults have signed up for at least one free trial.
Nearly 90% of subscribers would recommend fresh meal kits to their friends.
The number of companies in this space continues to expand rapidly, but no single provider controls the market. According to June 2017 consumer survey data, the top five players in the market include Blue Apron, Freshology, Green Chef, HelloFresh, and Home Bistro.
Find Out More → Get ahead of the latest developments by reading Packaged Facts' newest edition of Meal Kit Delivery Services in the U.S.
Get More Information
This article above is an excerpt from a new ebook titled Top 10 Food Industry Trends by Packaged Facts, a leading consumer research firm and division of MarketResearch.com. To read the rest of the ebook, download it for free on the Packaged Facts website.
Other Articles You May Also Like