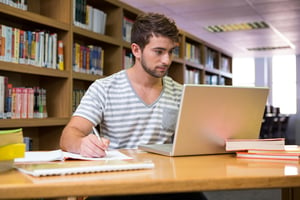 Open access provides scholarly journal articles for free to readers online without most licensing and copyright restrictions. This innovative publishing model resulted from a combination of tight library budgets, increasing prices, and the desire to reach a wider audience using more cost-efficient methods.
The open access journal market is growing and represents a bright spot in a flat market. Revenue from open access journals account for approximately 6% of the global scholarly journal market and is increasing at double-digit rates year over year, according to the report Open Access Journal publishing 2020-2024 by Simba Information, a leading market research firm.
What's more, the current push for open access agreements is expected to accelerate even more due to the impact of the global COVID-19 pandemic and the "need for larger open infrastructure to share methodology, data, and results more broadly," according to Simba Information.

Top Open Access Journal Publishers
Simba Information analyzes the performance of leading open access journals in its report. Here is a quick rundown of the top players, which include both publicly traded and private companies.
Springer Nature was a pioneer that made open access a core strategy early on and has negotiated transformative open access deals with library consortia in many different countries.
Elsevier has a complex relationship with open access and was often criticized by proponents of the OA movement. However, the company has made moves to embrace alternatives to conventional subscriptions in recent years.
John Wiley & Sons is one of the world's largest scientific, technical, and medical (STM) publishers with 144 open access journals and 1,448 subscription journals that offer a hybrid option.
Frontiers was launched in 2007 and is a fast-growing open access journal publisher active in neurosciences, psychiatry, physiology, neurology, psychology as well as clinical medicine, natural sciences, and engineering.
MDPI AG, or Multidisciplinary Digital Publishing Institute, is a Swiss-based company with offices all over the world and a large presence in China. MDPI AG publishes journals in science and engineering, the social sciences, and philosophy.
Public Library of Science (PLOS) was founded as a nonprofit with the goal of catalyzing the open access movement. The company's market share has decreased as the playing field for open access publishers has become more crowded.
Hindawi was founded in Egypt in 1997 as a traditional subscription journal publisher and later transitioned to an open access publishing model between 2004 and 2007. Its staff is primarily based in Cairo but is headquartered in London.
Informa PLC is the largest publisher in the humanities and social sciences and a top scholarly journal publisher. Informa publishes open access under four imprints: Taylor & Francis Open, Dove Medical Press, Cogent OA, and Routledge Open.
Wolters Kluwer was not active in the open access movement until its 2011 acquisition of Medknow, an Indian company with journals that represent associations and societies in India, Africa, the Middle East, China, and the U.S.
Thieme is the largest medical publisher in Germany with strong expertise in surgery, otolaryngology, ophthalmology, speech and hearing pathology, atlases, and basic clinical sciences. Open access journal content can be accessed through Thieme Open.
Understanding the Open Access Journals Market
Need more information? Simba Information's report covers each of these companies in detail, providing analysis on the following:
Company overview
Recent company performance
Open access strategy
Drawing on primary and secondary research, the report also gives readers a comprehensive look at the global open access journal publishing industry as a whole, with in-depth market analysis, revenue numbers, market share analysis, other growth metrics, and coverage of key issues and trends.
---
About Simba Information: Since 1989, Simba Information has been widely recognized as the leading authority for market intelligence on the education and professional publishing industries. Simba Information's experts give you critical analysis derived from years of experience in the field and quality data of the kind only available to industry insiders.