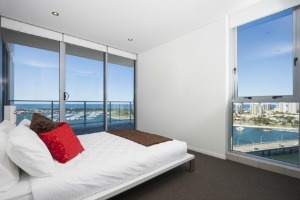 A forecast from the National Oceanic and Atmospheric Administration predicting a near- or above-normal 2016 Atlantic hurricane season (after years of below-normal activity) throws the importance of impact-resistant windows and doors — sturdy-framed, multi-pane products designed to withstand violent winds and windborne debris — into sharp relief.

According to Mariel Behnke, a Construction Analyst with The Freedonia Group, impact-resistant windows and doors account for around 10% of the market for window and doors in value terms. And both products are expected to achieve steady, above-average growth through 2020.

A particular benefit of impact-resistant windows and doors is their ability to help mitigate storm-related property destruction and associated expenses. This is especially significant in light of the fact that four of the top five costliest hurricanes in US history have occurred within the past 15 years.

Driving factors for growth in the impact-resistant residential window and door market include the following:
Increasingly widespread stringent statewide building codes (such as the Miami-Dade County, Florida codes) that were developed following Hurricane Andrew in 1992 and Hurricane Katrina in 2005.
Strong construction and population growth in the Southern US, some of which is especially vulnerable to cataclysmic weather events originating from the North Atlantic Basin.
Heightened storm risk: NOAA projects a 70% chance of 12-17 named Atlantic storms for 2016, levels unseen since the 2012 season that brought damaging tropical cyclones and hurricanes — among them Hurricane Sandy — to large swaths of the US Gulf Coast, the US Eastern Seaboard, and the Caribbean.
An array of benefits even for homeowners who do not reside in storm-prone areas: Using impact-resistant windows and doors can provide burglary protection, ambient noise reduction, energy efficiency, enhanced ultraviolet light protection, and insurance premium discounts.
Metal Rules…
Impact-resistant windows and doors are traditionally manufactured from metal materials, which are thought to be more capable of withstanding physical damage from high winds and impacts. For example, CGI Windows and Doors (a subsidiary of PGT) produces Estate Collection aluminum windows and patio doors, which are designed to meet strict Miami-Dade County specifications for high-velocity hurricane impact resistance without sacrificing high-value aesthetic appearance.
…For Now
For all of metal's past dominance in this category, choosing an impact-resistant window or door may no longer be an open and shut case. Increased efficiencies in cost and energy savings make impact-resistant plastic products, especially reinforced vinyl types, attractive to homeowners worried about both their safety and their wallets. As a result, sales of plastic impact-resistant windows are expected to rise almost 2% faster than those of metal-based products, even slightly surpassing metal's market share by 2020.
The Big Picture
Growth in impact-resistant windows and doors is reflective of growth in the overall residential window and door market — solid and steady, with sales increasing as the construction industry continues to recover from 2007-2009 recession levels. Use of lower-cost plastic products will continue to rise as manufacturers develop new technologies and production processes to enhance durability and energy efficiency.
For More
To learn more, check out Residential Windows and Doors, a new comprehensive industry study from The Freedonia Group, which provides analysis on the following:
Historical demand data and forecasts
Market environment factors
Industry structure
Company market share
US industry competitors
---
About the Author: Alecia Mouhanna is a Writer/Researcher at The Freedonia Group, where she covers a diverse range of topics including construction and building materials, security equipment and services, packaging, chemicals, and more.