There is a big migration underway from traditional voice to data. This is not to mean that voice goes away in favor of only non-voice services. What this really means is that traditional circuit-switched (bearer) is going away and thus traditional voice calling plans. One of the key technologies that will help drive this migration is WebRTC.
WebRTC is a standard supporting a communication ecosystem that enables real-time communication over web browsers using JavaScript APIs. A device supporting a HTML5 browser is mandatory to support WebRTC.
WebRTC supported services will usher into the ICT ecosystem a next generation services ecosystem of communications, applications, content, and commerce. WebRTC will allow for a significantly enhanced communications experience; one that will integrate voice and data communications with various multimedia content and services. Various media and broadcast companies will benefit from WebRTC as it represents a multimedia, multimodal way to reach customers with free, premium, and freemium content that is highly interactive and personalized.
End-users will be able to store music, pictures, videos, games, etc. in the cloud and access them anytime, anywhere, and share them with others. The question for the end-user is, "How can I have more room, that's also safe and isn't tied to my phone or tablet?" WebRTC is uniquely positioned to both be a single-point of interface for all stored content and a multi-media, multi-modal dashboard for all content and applications.
Mind Commerce sees WebRTC growing at a brisk pace over the course of the next five years, even within developing countries.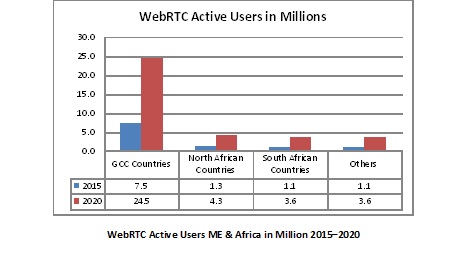 By way of example, we note the rather significant growth even in developing regions such as Middle East and Africa as depicted in the above forecast.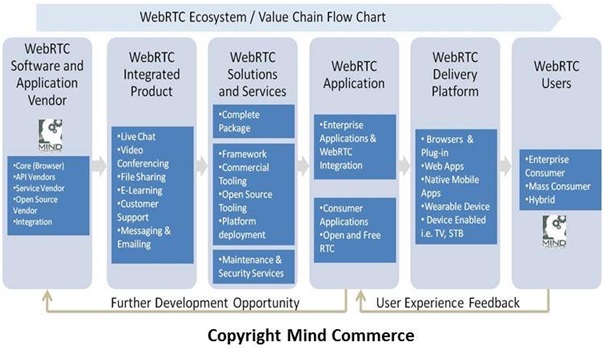 WebRTC is positioned to create a new wave of communications services with an ecosystem comprised of CSPs, many vendors, enterprise, startups, open source entities, and WebRTC end-users. The emerging WebRTC value chain will create significant value by combining new applications and capabilities and transforming RTC technology.
Web Real-time Communications: WebRTC Software, Applications, Services, Solutions, and Devices Market with Global and Regional Forecast 2015–2020 evaluates WebRTC technology, evolving ecosystem, solutions, and applications. It also addresses the role of value chain partners, WebRTC APIs, enterprise applications, telecom operators, and other CSPs within the evolving ecosystem. The report also assesses WebRTC features/functionality, use cases, and adoption expectations for enterprise and consumers. The report covers the WebRTC solution landscape with vendor analysis focused on business models for each company/solution.
The report also forecasts global and regional WebRTC market size. Forecasting provides revenue by categories including solution, service (Implementation, Integration, Consulting, and Maintenance), industry verticals, deployment models, and application. In addition, the report contains forecasts for WebRTC devices and users in globally and regionally from 2015 to 2020.
Interested in learning more? Check out MarketResearch.com's Mind Commerce Knowledge Center solution!
Editor's Note
The blog post is collaboratively written by members of the Mind Commerce staff.
About Mind Commerce

The Mind Commerce® mission is to provide customized research, consulting, training, and writing services for the telecommunications and IT industry. Mind Commerce clients include manufacturers, developers, service providers, industry organizations, and government. Mind Commerce differentiates itself from its competition by meeting the unique needs of its clients through customized product development and service delivery.
Mind Commerce is also available on Profound.com...
Purchase individual report sections for a pro-rated price. Visit Profound.com to learn more.