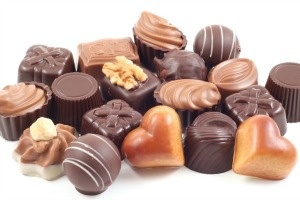 Annual consumer spending on Valentine's Day totals 13.2 billion on average, according to the Retail Advertising and Marketing Association. Read our blog post and check out our infographic to learn about the consumer spending trends that help drive revenue on Valentine's Day, including gifting, candy consumption, and other industry statistics.
Valentine's Day Gifts
For many couples, Valentine's Day has become another gift exchange holiday. According to the Valentine's Day Consumer Intentions and Actions Survey, 53 percent of women would end a relationship if they didn't get something on Valentine's Day. But what are couples spending their money on?
Total spending on Valentine's Day gifts in 2016 is expected to reach $19.7 billion, much higher than the yearly average since 2010. The gifts most often given on Valentine's Day include candy, flowers, cards, jewelry, dining and eating out, clothing, and gift cards. Check out our infographic to get details on the breakdown of these gifts.

Share this Image On Your Site
Valentine's Day Candy
About 81 percent of American consumers eat chocolate, so it's no surprise the candy industry has a strong presence during Valentine's Day. Almost 50 percent of consumers say they will be giving candy as a present this year, with sales expected to reach $1.7 billion.
Valentine's Day Is Not Just for Romance
Consumers are not just spending money on their significant others. According to the National Retail Federation, consumers spend an average of $27.79 on other family members like their children and parents. With a variety of parties and events held on Valentine's Day, it's also common for consumers to spend money on teachers, classmates, and even co-workers.
Many pet retailers use this time for marketing to pet owners, too. Consumers will spend nearly $681 million on treats and toys for their pets on Valentine's Day, which is double what pet owners spent on Halloween costumes.
The Impact of Valentine's Day on Business
As the first major holiday of the year, high spending during Valentine's Day can provide a positive lift to the economy. Department stores see the most business from Valentine's Day, with 34.5 percent of shoppers making their purchases in department stores. Online stores also see high sales activity, with 27.9 percent of consumers ordering their Valentine's Day gifts online.
Specialty stores get plenty of boosts in sales, too. Florists and nurseries experience high sales, with nearly $403 million in revenue generated from domestically cut flowers in the U.S. Also, $2.2 billion in revenue comes from jewelry stores, and this year, 19.9 percent of consumers plan on providing their significant others with a gift of jewelry.
Curious to learn how Valentine's Day consumer spending trends compare to other holidays in recent years? Check out these blog posts to find out more.
Thanks for reading!
Caitlin Stewart
Marketing Coordinator
MarketResearch.com