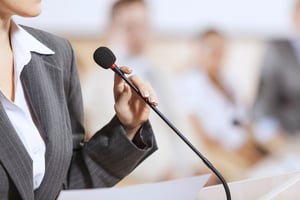 Speaking for pay is big business, especially for former presidents, sports figures, and other celebrities. There are an estimated 40,000 professional speakers in the United States, but not all work full-time.
Most speakers can't make a living solely on speeches. They write books, create online courses, do webinars and podcasts, and personal/business coaching as well, leveraging their message.
However, the old roster of familiar names is dying, retiring, or cutting back on their travel schedules. Live events attendance is slumping, so speakers are delivering their message more often via more convenient and less costly online courses and academies, coaching by phone, webinars, and other online vehicles.
Top Things to Know About This Market
Market value and forecast: Marketdata estimates that the motivational speakers' market in the U.S. generated an estimated $1.9 billion in revenues in 2019. Marketdata analysts project that the value of the professional speaking industry will grow at a 4.1% average annual pace, reaching $2.30 billion by 2025.


Income: The "average" professional speaker has an annual income of about $106,000. Senior-level motivational speaker earnings begin at $217,872 per year.


Additional income streams: Non-speaking activities (selling books, DVDs, online courses, doing coaching, consulting, webinars, etc.) account for 60% of a speaker's total income.


Demographics: Female professional speakers are far outnumbered by males, and speakers catering to younger audiences such as Millennials are scarce.


Price ranges: Speaking fees seem to be stable, and vary widely, depending on the speaker's experience, position, and name recognition. Many speakers speak for free when starting out, charge about $3,500 per speech when they are experienced, and may charge up to $100,000 or more if they are a former president or national politician.


Types of speeches that are in demand: Meeting planners want speakers that can provide practical knowledge and give an audience a measurable return on their investment – not just a feel good general motivational presentation. In addition, Millennials crave engagement and interaction.
Where to Learn More
Need more information on the industry? The report The U.S. Motivational Speaking Market examines the market for professional and motivational speakers and products they have that seek to improve us physically, mentally, financially or spiritually.
The study analyzes the market's size/growth (2005-2025 forecast), the shift to Internet delivery of content, speaker demographics, and in-depth profiles of 36 top motivational speakers. An overview is included, with an industry statistical snapshot and the opinions and outlook of industry experts.
Visit the report page on MarketResearch.com to read the full abstract.
---
About the Author: John LaRosa is the President of Marketdata LLC and is the author of 100+ industry and market studies. His research appears in top media outlets including ABC, CNN, Fox, Forbes, USA Today, The Wall Street Journal, The New York Times, and a variety of trade journals.