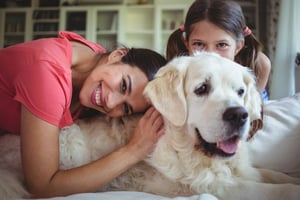 The U.S. pet industry continues to defy gravity and surge to new heights. Long seen as a smart investment, the pet market is attracting funding, fostering innovation, and rapidly evolving despite the challenges of the pandemic and supply chain issues.
Here's a look at the top trends driving pet industry growth and the latest pet industry statistics published in U.S. Pet Market Outlook, 2022-2023 by Packaged Facts, a leading market research firm and division of MarketResearch.com.
Key Pet Industry Trends and Statistics for 2022
1. The U.S. pet industry continues to boom. After an impressive year in 2020, the U.S. pet industry continued its robust growth streak in 2021, surging 14% overall to $123 billion. In Packaged Facts' January 2022 Survey of Pet Owners, 38% of dog owners, 40% of cat owners, and 41% of other pet owners reported spending more on pet care in 2021 compared with 2020.
2. Pet consumers increasingly shop online. Brick-and-mortar pet retail performed relatively well in 2021, growing 9%, but e-commerce continued to rise sharply. Amazon and Chewy lead the pack when it comes to capturing internet sales. However, brick-and-mortar stores such as Walmart, Target, PetSmart, and Petco are also contributing to the shift to e-commerce as they move an increasing proportion of sales online.
3. Inflation and supply chain issues remain a challenge. Ongoing inflation—exacerbated by high gas prices and the war in Ukraine—could force consumers to go without certain pet products, or trade down for less costly options. Inflation poses a particular challenge for consumers who are already at the edge. Although economic factors could change, most analysts expect inflation to remain a factor in 2022 and 2023.
4. Consumers sharpen their focus on health and wellness. A large majority of US pet owners believe that their pets have a beneficial impact on their physical and emotional health, and this sentiment has only strengthened during the pandemic era. Pets are prized for being affectionate, non-judgmental, and present throughout life's highs and lows, and they are seen as a key source of companionship and support during stressful times.
5. The pandemic created a "new normal," with many pet owners spending more time at home. Many pet owners have postponed returning to the workplace, which has allowed them to shower their pets with more time and attention while working remotely.
6. Pet acquisition was counterbalanced by attrition in the pandemic era. The pattern of pet acquisition among upper income households was offset by pet ownership attrition among lower-income and more budget-conscious households, as Packaged Facts Research Director David Sprinkle explained.
In terms of households earning $100,000 or more, a national gain of 1.3 million pet owners between 2017 and 2019 was tripled by a gain of 3.9 million pet owners in the COVID years of 2019 to 2021. These unusual gains in pet ownership among affluent consumers caused the spending boom in the pet industry.
In terms of households earning under $30,000, a modest national gain of 264,000 pet owners between 2017 and 2019 was followed by a loss of 3.4 million pet owners between 2019 and 2021.
7. The pet industry saw a record number of M&A transactions in 2021 and early 2022. The pet industry has long been considered a good investment, but now even more so due to its remarkable growth during the pandemic. While outside investors explored the pet industry for opportunities, established pet companies also sought to carve out more "omnimarket" and international territory.
Where to Learn More
For more information on the pet industry, be sure to read Pet Market Outlook, 2022-2023. With 345 pages of rigorous data and expert insights, this comprehensive report answers a slew of questions, including these and many more:
How much is the pet industry worth?
What's trending in the pet industry?
What pet products are in high demand?
What is lacking in the pet industry?
How has pet dog and cat ownership changed during the pandemic?
What pet market opportunities are available?
How is the rise of e-commerce impacting the pet market?
Visit the report page to read the full abstract and download a sample.
About Packaged Facts
Packaged Facts, a division of MarketResearch.com, publishes market intelligence on a wide range of consumer market topics, including consumer demographics and shopper insights, the food and beverage market, consumer financial products and services, consumer goods and retailing, and pet products and services. Packaged Facts also offers a full range of custom research services. Reports can be purchased at our company website and are also available through MarketResearch.com.
Related Articles