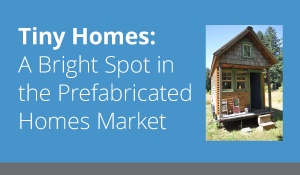 The high cost of housing is motivating more people to live small — in tiny homes that are less than 500 square feet, a space that could easily fit inside a regular family room.
Although tiny houses are still a small share of the overall housing market, the segment has been very strong and future demand is expected to rise sharply over the next four years, according to Matt Zielenski, a Senior Analyst at The Freedonia Group, who was recently interviewed in a white paper titled Tiny Homes: A Bright Spot in the Prefabricated Homes Market.
Some enthusiasts take a DIY approach to building these small dwellings, but most units are made in factories by firms that specialize in manufacturing tiny homes.
Who Buys Tiny Homes?
"A disproportionate share of buyers are younger people — generally but not always single — living in the city," Zielenski explained. "These units are small and don't have much space for extra stuff, but that's ideal, as a lot of people in that demographic don't have a lot of possessions."
Tiny home buyers are not limited to younger demographics, however; they also include retirees and cash-strapped consumers attracted to minimalist lifestyles.
Market Drivers to Watch
In recent years, consumer awareness of tiny homes has risen alongside the popularity of television shows like Tiny House Nation, Tiny House Builders, and Tiny House Hunters.
While tiny homes are often romanticized by the media, the market for these homes is not just hype. According to Freedonia's research, demand for these homes will be driven by several key factors:
Low cost: The sticker price of tiny homes can be one-third of the price of a site-built home — putting home ownership within reach for more consumers.

Interest in multigenerational living: In some areas, homeowners can place tiny houses on their property to provide a separate living space for an adult child or parent without violating building codes.

More relaxed regulations: Efforts by local governments, especially in California, to loosen building codes and zoning laws may allow for more tiny homes.

Small footprint: Some cities are modifying zoning to allow multiple tiny homes on the same lot— a strategy that could be used to help ease housing shortages.
Where to Learn More
Want more tiny homes data? Download Freedonia's free white paper, which provides an overview of the current state of the tiny homes market as well as industry insights into prospects going forward and the impact of the COVID-19 pandemic on tiny home sales.
---
About The Freedonia Group: The Freedonia Group, a division of MarketResearch.com, is a leading international industrial research company publishing more than 100 studies annually. Since 1985 we have provided research to customers ranging in size from global conglomerates to one-person consulting firms. More than 90% of the industrial companies in the Fortune 500 use Freedonia Group research to help with their strategic planning.