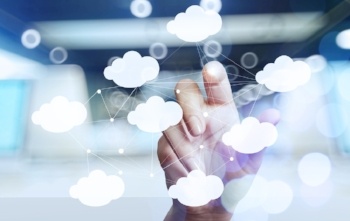 Cloud computing allows end-users to utilize a network of remote servers hosted over the internet to store, manage, and process data instead of relying on a local server or system. With the emergence of cloud-based technologies, the retail industry has undergone tremendous transformation.
For instance, the number of online users has increased significantly with the advent of mobile applications. The availability of smartphones & other connected devices along with increased internet penetration has enhanced the flow of communication. Customers can check reviews and compare prices and various attributes of retail products with ease, thereby increasing the competition among retailers. As a result, retailers are forced to adopt new technologies in order to retain customers and survive in this competitive market.
As retailers work to shift gears and deliver omnichannel experiences, the retail cloud market will experience rapid growth. The global retail cloud market is forecast to reach $28.53 billion by 2021, growing at a compound annual growth rate (CAGR) of 20.9%, according to a recent report by the research firm MarketsandMarkets.
What's Driving the Growth of Retail Cloud Computing
Some of the key benefits offered by cloud computing that are accelerating its adoption in the retail industry are highlighted below.
Rapid development and deployment: Cloud technologies allow low-cost software development, with swift deployment due to the emergence of technologies such as microservices, Continuous Integration and Continuous Deployment (CI/CD), and containers. The fast-moving nature of the retail industry demands new mobile ecommerce solutions, analytic packages, or new functionalities that can be deployed easily and quickly.
Interconnected point of sale (POS) systems: Cloud POS systems are becoming a necessity for most retailers due to the many benefits they offer such as centralization of customer, sales, and inventory information on a central cloud storage. In addition, cloud POS empowers retailers with real-time transactional information which is accessible anywhere through the cloud, further resulting in faster and efficient business decisions. Customer service is also drastically improved through the adoption of cloud-based POS systems. For example, integration of multi-channel retail such as e-stores with brick-and-mortar shops is gaining traction with cloud-based platforms.
Cloud computing in the retail industry enables real-time access to all operational and financial data across businesses, improving effectiveness, reducing expenses, and enabling better business decisions. The key areas where cloud computing is influencing the retail industry are channel operations, merchandising and marketing, supply chain, and sales and support.
Cloud computing solutions can enhance channel operations by tracking customer preferences and engaging them more efficiently. Customer data can be analyzed with the help of cloud computing which would allow retailers to make merchandising decisions and improve the in-store experience. Moreover, cloud computing solutions help in improving the supply chain of retailers by providing real-time analysis of stocks and inventories. Sales, service, and support functions are expected to improve as cloud-based technologies provide significant customer insights.
Based upon MarketsandMarkets analysis, the three service models of Software as a Service (SaaS), Platform as a Service (PaaS), and Infrastructure as a Service (IaaS) will tremendously impact retailers. But in the retail industry, SaaS is expected to hold the largest market size during the forecast period of 2016-2021, as compared to the other two service models, as retailers have an affinity for enhancing functionalities that are customer-facing.
Leading Companies in Retail Cloud Computing
The major players in the retail cloud market include:
Oracle

Cisco

SAP

IBM

Microsoft

CSC

Fujitsu

Infor

Epicor

JDA Software

Syntel

RapidScale
To achieve growth in the retail cloud market, market players are focusing on new product launches.
Recent Product Launches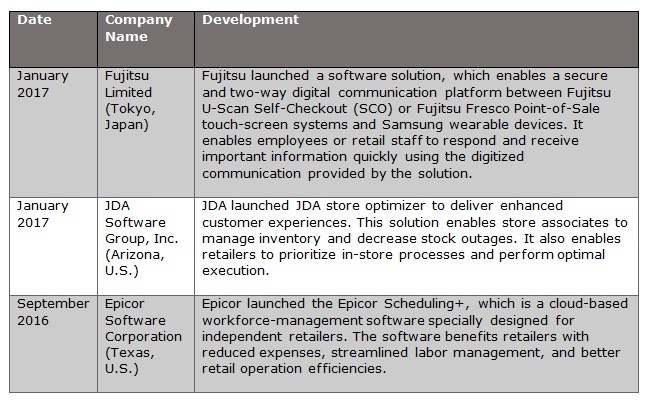 To learn more about this dynamic industry, see Retail Cloud Market – Global Forecast to 2021 by MarketsandMarkets. This 150-page report helps stakeholders understand the pulse of the market with information on key drivers, restraints, challenges, and opportunities. Information on the competitive environment, product developments, partnerships, and acquisitions is also included along with market size estimations.
Click the button below to read the report's abstract and learn more.
Related Reports
For further industry-specific cloud technology research, kindly refer to the following links:
---
About the Author: Dhaval Kate is a Senior Analyst (ICT domain) at MarketsandMarkets.