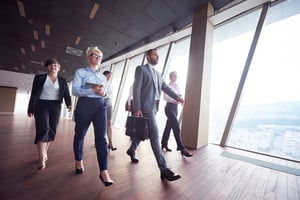 Professional services form a vast, growing market with a highly educated workforce and some of the world's most valuable, recognized brands. Professional services encompass a broad range of segments including portfolio management & investment advice, legal services, banking, securities trading, tax preparation & accounting, and other services.
Population growth and rising income levels and are expected to lead the U.S. professional services industry to new heights in the coming years. Personal consumption expenditures on professional services are forecast to reach $600 billion in 2023, rising at a 2.9% rate from $521 billion in 2018, according to Professional Services: United States by Freedonia Focus Reports, a division of MarketResearch.com.
However, the maturity of the market and the intense competition among firms will constrain growth. The coronavirus outbreak has also increased short-term volatility and may curtail growth in some segments. Each segment of the market faces unique opportunities, challenges, and disruptive trends.
Portfolio Management & Investment Advice
Portfolio management & investment advice is the largest and fastest growing segment of the market; it not only includes financial planning but also custody, escrow, and fiduciary services related to trusts.
While growing disposable personal incomes will help drive gains in this segment, portfolio managers face hurdles as well. Some clients opt to manage their own investments and take advantage of free stock trading, robo-advisors, or low-cost index funds — alternatives that can eat away at the fees and commissions that portfolio management professionals rely on.
Legal Services
Law practices include accident and injury, bankruptcy, criminal, estate, family, immigration, patent, product liability, real estate, and tax. Economic growth supports a rise in the demand for legal services, but the industry is not immune to disruption. Competition from companies like RocketLawyer and LegalZoom could lower revenues.
Banking
Consumer expenditures on banking services is also projected to rise. Fintech has the potential to expand financial services beyond traditional banks to unbanked and underbanked consumers, but online startups like Mango and SoFi could also weigh on revenue growth for banks. Government rules and regulations are another key constraint on this segment.
Securities Trading
Consumer spending on securities commissions and fees is forecast to decline. The proliferation of online brokerages has increased the competition and significantly reduced fees and commissions charged to consumers' for buying and selling securities. Free trading services such as JP Morgan Chase's You Invest may only intensify the trend.
Tax Preparation & Accounting
The Tax Cut and Jobs Act of 2017 was expected to increase consumer spending on tax preparation and accounting services and prompt more consumers to seek professional tax advice. However, many individuals take the standard tax deduction, which simplifies the steps needed for filing taxes, and free and low-cost tax software also decrease revenues.
Where to Learn More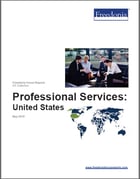 For a more complete and detailed assessment of the professional services industry, see Professional Services: United States published in May, 2019 by Freedonia Focus Reports.
Packed with data and insights, this report covers the market environment, including historical trends, key economic indicators, price index trends, consumer trends, and new payment technologies. The report also discusses segmentation & forecasts, industry characteristics, and market leaders.
The scope of this report encompasses fees and service charges paid by consumers for professional services; revenue from businesses is excluded.
Other related Freedonia Focus Reports include:
These reports are not only quick to read, but they are also based on robust methodologies and offer a nuanced perspective that only experienced expert analysts can provide.
About Freedonia Focus Reports
Published in 20-30 pages, Freedonia Focus Reports provide fresh, unbiased analysis on a wide variety of markets and industries.
Analysis is intended to guide the busy reader through pertinent topics in rapid succession, including:
total historical market size and industry output
segmentation by products and markets
identification of market drivers, constraints, and key indicators
segment-by-segment outlook in five-year forecasts
a survey of the supply base
suggested resources for further study
Browse through the latest Focus Reports on MarketResearch.com.
---
About the Author: Sarah Schmidt is a Managing Editor at MarketResearch.com, a leading provider of global market intelligence products and services.