The U.S. demand for drug delivery products is projected to reach $251 billion in 2019, according to the Freedonia Group, a leading international business research company. Oral dosage formulations will remain the largest-selling group of drug delivery products over the long term, but patent expirations and competition from generic brands will soften the growth potential of this product segment overall. Drawing on key findings from Freedonia's recent study Drug Delivery Products, here's a look at the market outlook for oral medications, including controlled-release formulations and niche applications.
Oral Drug Delivery Products
Compared to other product types, oral therapies offer a few important benefits that make them a popular drug delivery route for both patients and medical providers. These advantages include dosing convenience, accuracy, and the ease of adhering to a medication schedule. In order to meet consumer preferences, pharmaceutical manufacturers will pursue the development of new and improved oral therapies over alternative dosage formulations whenever practical.
Over the next four years, oral drug delivery products will face increasing generic competition and the loss of pricing flexibility. Patent expirations are also an issue. Recent and forthcoming expirations of note include the anticancer agent imatinib mesylate (GLEEVEC — Novartis), the antidepressant duloxetine HCl (CYMBALTA — Eli Lilly), and the proton pump inhibitor esomeprazole (NEXIUM — AstraZeneca). Combined, these three oral drug delivery products posted U.S. revenues of approximately $4.5 billion in 2014.
Oral drug delivery products span five major classifications within the pharmaceutical industry — controlled-release, chewable, nanoparticulate, orally disintegrating, and transmucosal (or buccal). Additionally, several promising technologies based on cochleates, emulsions, and advanced polymers are in early stages of development.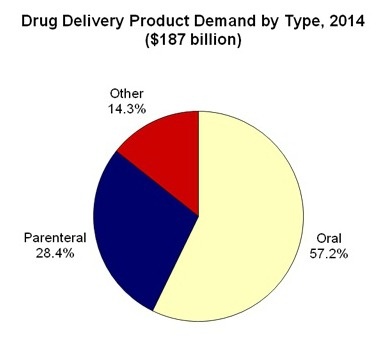 Controlled-Release Formulations
The largest class of oral dosage formulation is by far controlled-release. Oral controlled-release drugs allow for less frequent dosing than standard formulations and keep drug concentration levels stable within the bloodstream. Less frequent dosing improves patient adherence to medication schedules and eliminates the need for nighttime use. Stable drug concentration levels minimize the occurrence of toxic side effects and enhance the overall therapeutic efficacy of medication.
Although increasing generic competition will moderate faster gains within this segment, the introduction of new products and product line extensions will enable controlled-release medicines to maintain respectable sales growth in the increasingly price-sensitive healthcare environment.
Smaller Volume Delivery Options
Unlike controlled-release medicines, other oral drug delivery methods will continue to serve primarily niche applications. For example, chewable tablets, lozenges, and gums will derive the vast majority of revenues from over-the-counter pediatric and geriatric pharmaceuticals and nutritional preparations. Indications served by orally disintegrating and transmucosal formulations will remain confined mostly to pain control agents and other central nervous system agents that require fast onset of action for therapeutic effectiveness.
Lastly, oral nanoparticulate medicines will generate the most demand in the formulation of poorly soluble medicinal compounds. In the longer term, nanoparticles composed of lipid-based cochleates hold the potential to revolutionize drug delivery by enabling the conversion of several widely prescribed parenteral therapies and vaccines to oral dosage formulations. However, due to anticipated regulatory obstacles and developmental challenges, these advances are at least a decade away from reaching the marketplace.
Get High-Quality, In-Depth Analysis on the Market
Learn more about cutting-edge developments in the pharmaceutical industry by reading Drug Delivery Products by the Freedonia Group, an authoritative research firm that is regularly cited in leading business publications such as the Wall Street Journal, the Financial Times, and the Economist.
The industry study Drug Delivery Products includes:
Market environment
Product trends and forecasts
Industry structure and market share
Company profiles
Click to the report page to find out more.
Corinne Gangloff
Media Relations Director
The Freedonia Group