It's that time of the year when both kids as well as adult "career enhancers" are heading back to school, but fewer and fewer students are turning to degree-granting for-profit institutions (eg, DeVry University and University of Phoenix) for their post-secondary education needs.
While for-profit enrollment climbed 14% per year on average over the 1995-2010 period (topping out at 9.6% of total post-secondary enrollments in 2010), enrollment fell at an average annual rate of 7.0% over the 2010-2015 period. That performance compares to 1.9% average annual growth in nonprofit private post-secondary school enrollment over the 1995-2010 period, and <1.0% average annual growth over the 2010-2015 period.
What occurred to produce such rapid growth and precipitous decline?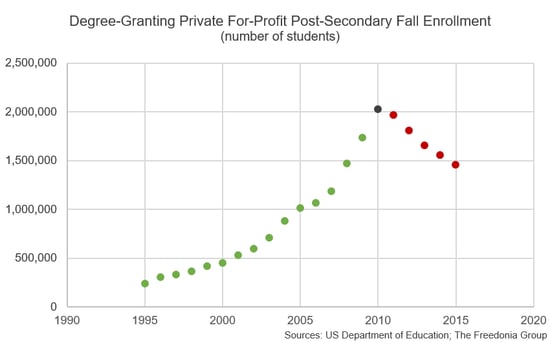 Increasing Internet access; emergence of convenience-oriented, Internet-based for-profit schools; and early-lifecycle-associated growth
NAFTA, offshoring, and the "retraining" of displaced workers
Favorable demographics (eg, population 18-21 expanded 1.0% per year on average over the 2000-2011 period)
2007-2009 recession and the "career enhancement" of unemployed workers
Aggressive recruiting and low admissions standards relative to other higher education institutions

Economic recovery
Unfavorable demographics (eg, population 18-21 declined 1.2% per year on average over the 2011-2015 period)
Reputation damage

(2010) US Government Accountability Office undercover testing found for-profit colleges encouraged fraud, and engaged in deceptive and questionable marketing practices
(2012) US Senate committee released scathing report: "For-Profit Higher Education: The Failure to Safeguard the Federal Investment and Ensure Student Success"
High-profile closures (eg, collapse of Corinthian Colleges in April 2015 and ITT Educational Services in September 2016)

Intensifying competition as public and nonprofit brick-and-mortar institutions (often perceived as more reputable) increasingly began offering Internet-based, distance-learning options
(2014) Department of Education finalized Gainful Employment Rule, which intensified institutional performance requirements for Title IV financial aid eligibility, resulting in tighter admissions standards
For-profit post-secondary institutions cannot control many of the factors that most impact enrollment levels, such as competition from public and nonprofit institutions, demographic and macroeconomic trends, and technological innovation. Going forward, the growth of for-profit institutions in the domestic market will depend largely on their internal capacity to reform marketing, recruitment, curriculum, and career development strategies in order to rebuild student trust over time.
For a complete report on personal spending on education by service for 2005-2015 with projections to 2020, as well as pertinent discussion of trends in demographics, international education, and regulatory factors, see Education: United States, a report published by the Freedonia Focus Reports division of The Freedonia Group.
---
About the Author: Matthew Rolfe is a Senior Market Analyst with Freedonia Focus Reports, a division of The Freedonia Group. He conducts research and writes a variety of Focus Reports, which offer concise overviews of market size, product segmentation, business trends, and more.