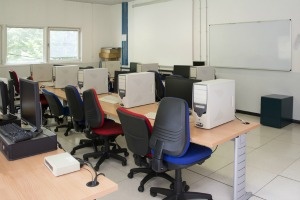 As schools gradually shift away from print products and move to innovative, technology-based formats, a new digital evolution is occurring in the classroom. In the U.S., growth in the number of schools, implementation of modern technological devices, and new standards and tests are all major factors contributing to the increasing demand for digital instructional materials.
Growing Number of Schools
The number of educational institutions in the U.S. is rising. According to Simba Information's report Publishing for the PreK-12 Market 2015-2016, there are now 15,931 public school districts, 7,114 charter schools, 98,956 public schools, and 22,656 private schools in the U.S.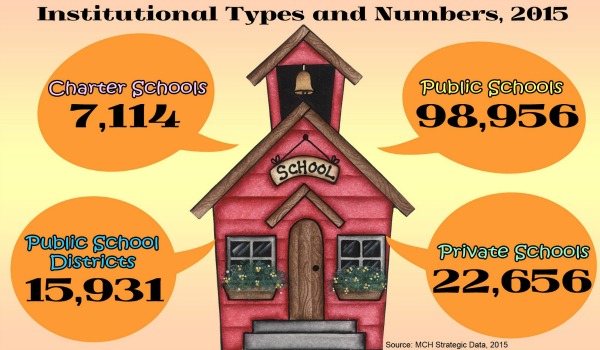 The increase in the number of schools in the U.S. correlates with the strong growth of the preK-12 instructional materials market, which was estimated at $8.72 billion in 2014, up 6.5 percent from 2013.
Shift to Digital Instructional Materials
According to a survey completed in April 2015, 90.6 percent of teachers said they are using digital resources in the classroom for student instruction. Courseware and digital supplements were up 8.4 percent and 3.7 percent in 2014. Both are expected to show the most growth as more schools begin to integrate digital devices into the learning process.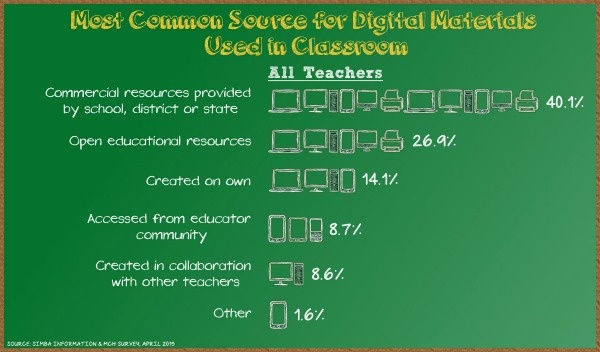 Simba Information's newest report, PreK-12 Digital Market Survey Report 2015, found that the most common source for digital instructional materials is commercial resources provided by the school, district, or state, at 40.1 percent. The second is educational resources at 26.9 percent. The last four sources include self-created, at 14.1 percent; accessed from the educator community, at 8.7 percent; created in collaboration with other teachers, at 8.6 percent; and, other at 1.6 percent.
What About Textbooks?
Although the shift to using digital supplements in the classroom is currently underway, textbooks still lead the instructional material market, with 10 percent growth in the 2014 school year. Many schools still rely heavily on printed materials for students. However, this growth isn't going to last forever. Traditional textbooks will experience limited growth in the future. For the remainder of the decade, the market will experience a hybrid use of both traditional and digital learning materials.
To learn more about how the education market is evolving, check out all our reports by Simba Information.
Thanks for reading!
Caitlin Stewart
Marketing Coordinator
MarketResearch.com