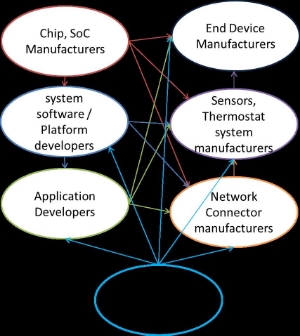 There is a range of low-frequency network technologies that consumer devices can use to communicate with each other, and the market has no dominance or availability of single network technology that fits all. This is one of the highlights of this industry and a reason that we find different alliances, such as ZigBee, Z-wave, Insteon, MoCA and DLNA and many other small groups, emerging and stating their dominance over this industry. The common practice is manifesting in a growing number of alliances of hardware, software and end device providers/solutions under one umbrella and is working in coherence with each other to generate dominance on the market.
Another important observation is the increasing demand for low-power, low-energy usage with longer battery life radio devices. This is a very dominant area responsible for growth or hindrance of market acceptance for connected consumer devices. Sensors are the most affected component because of this demand. The growth of sensors in connected consumer markets is deeply dependent on development of low-power, low-energy requirements with longer battery life of sensors.
One key market segment is the Home Automation arena. Home Automation and the use of consumer devices are not new to the market; however, the opportunities in this industry using IoT are new. The industry has previously offered automation products to home users in home automation, security and monitoring systems, etc., and consumers are well aware of the concept.
Connected Consumer Device Vendor Ecosystem
Most of the current suppliers in the connected consumer devices space are large manufacturers who have years of professional experience in automation, networking and device manufacturing.
Mind Commerce has focused on these areas in its report Global Connected Consumer Devices: Key Trends, Opportunities and Market Forecasts 2015 - 2020. Mind Commerce research indicates that the global market for connected consumer devices will reach $88 billion with a CAGR of 14.4% by 2020. Certain industry verticals will realize substantially better growth than others due to structural differences that will better exploit the value of distributed devices.
It is also important to consider the underlying technologies and solutions supporting connected consumer devices such as Machine-to-Machine (M2M) communications. In the Mind Commerce report, End-to-End M2M, 7th Edition, provides invaluable information for anyone seeking to better understand M2M technology, applications, business and regulatory issues.
Interested in more information on the Telecom & Wireless industry? Check out MarketResearch.com's Mind Commerce Knowledge Center solution!

Editor's Note:
The blog post is collaboratively written by members of the Mind Commerce staff.
About Mind Commerce:
The Mind Commerce® mission is to provide customized research, consulting, training, and writing services for the telecommunications and IT industry. Mind Commerce clients include manufacturers, developers, service providers, industry organizations, and government. Mind Commerce differentiates itself from its competition by meeting the unique needs of its clients through customized product development and service delivery.
Mind Commerce is also available on Profound.com...
Purchase individual report sections for a pro-rated price. Visit Profound.com to learn more.