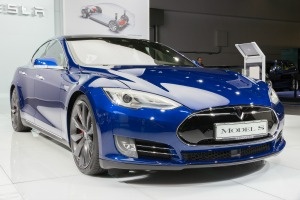 Soaring demand growth and skyrocketing prices are making 2016 a very exciting year for lithium — the highly reactive, silvery white metal that has revolutionized the rechargeable battery industry. Portable electronics, including everything from smartphones to laptops, rely on lithium-ion (Li-Ion) batteries. But it will be electric vehicles (EVs) that drive lithium sales going forward, boosting prices while placing increasing pressure on global supplies.
EV producers such as Tesla and China's BYD are building Li-Ion battery "gigafactories" to drive down battery prices and make EVs more affordable. At its gigafactory under construction in Nevada, Tesla plans to produce enough Li-Ion batteries to supply 500,000 electric vehicles by 2020. At full capacity, Tesla could require quantities of lithium equal to over half of the volumes currently used worldwide in rechargeable batteries.
Will There Be Enough Lithium?
Brisk expansion in the global market has led to concerns about the ability of lithium producers to meet the rapidly growing needs of battery and EV suppliers. Last year, Tesla formed supply agreements with two natural resource companies: Pure Energy Minerals, which plans to produce lithium in Nevada's Clayton Valley, and Bacanora Minerals, which is developing a lithium clay resource in northern Mexico.
But Tesla will require more lithium than these producers can offer to meet its goal of half a million EV batteries by the end of the decade. Tesla will also need to increasingly compete with other players in the electric vehicle sector — including the world's top automakers, as well as newer entrants such as Google and Faraday Future — who are looking to secure lithium for their vehicle batteries.
Ongoing Investment Boosts Lithium Production
Freedonia Group analyst Kent Furst explains that, while global lithium supplies are expected to tighten in the near term, "the ongoing exploitation of new resources, combined with new technologies to more efficiently extract lithium, should ensure adequate supplies in the long term." In the US, for example, where only specialty chemical firm Albemarle (via Rockwood Lithium) currently produces the metal, a number of smaller firms are looking to enter the fray and compete to supply companies such as Tesla.
Just this year, exploration firm Lithium X Energy announced the purchase of a lithium property in Nevada's Clayton Valley (in addition to its acquisition of a lithium brine project in Argentina), while Pure Energy Minerals has launched the next phase of drilling at its own Clayton Valley project. Rising prices and potential profits from lithium production should increasingly outweigh costs associated with the development of new projects, encouraging ongoing investment in new mining companies and boosting lithium supplies going forward.
Find Out More
For additional analysis, see the industry study World Lithium by the Freedonia Group.
This comprehensive report provides the following:
Historical demand data and forecasts
Market environment factors
Industry structure
Company market share
Profiles of 32 industry players
Carolyn Zulandt
Industry Analyst
The Freedonia Group