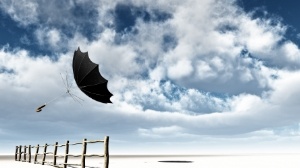 Hurricanes. Tornadoes. Hailstorms. To most Americans, these extreme weather events are a source of dread (and sometimes fascination). For those in the roofing industry, however, they mean something else: work.

Weather-related repairs play a significant role in the US residential roofing industry, often accounting for more than one-third of total reroofing demand in any given year. While many believe that the landfall of a hurricane or tropical storm is the weather event most likely to cause roof damage, a wide range of other weather conditions can necessitate roof replacement:
Hailstorms — such as those that traversed Texas, Oklahoma, and Arkansas in March and April 2016 — can severely damage roofs.
Tornadoes and thunderstorms often occur over wide areas, with damaging high winds and heavy rainfalls.
Heavy snowstorms can cause roofs to collapse, while prolonged buildups of snow and ice can spur the formation of ice dams that cause leaks.
Many homeowners are insured against weather-related damage and can have damaged roofs completely replaced in short order. Not only is this a source of new business for roofing companies, but these projects also offer the possibility of upgrading to more durable products better able to resist the destructive forces of Mother Nature.
Weather resistant roofing products include:
Laminated, or architectural, asphalt shingles: Thicker and heavier than traditional three-tab shingles, these shingles can better withstand high winds and impact.
Metal roofing: Metal tiles, shingles, and standing seam roofing coated with corrosion-resistant compounds provide resistance to uplifts and damage from hail.
Roofing tiles: Roofing tiles are especially resistant to uplifts caused by high winds and can impart a Mediterranean-style look to a home.
Polymer products: Also known as "engineered slate" or "composite slate," these products look like wood or slate and are highly resistant to leaks and high winds.
No longer confined to the traditional three-tab asphalt shingle, consumers can use a number of these products to create roofs that provide lasting value. And not only can these newer roofing systems withstand the worst weather conditions nature can throw at them, they also can improve energy efficiency and often provide a unique appearance, increasing curb appeal and home resale values.
Maybe you can outsmart Mother Nature.
Where to Find Out More
Need more information? For historical demand data and forecasts by product, market, and US region, see Residential Roofing, an industry study published by The Freedonia Group. The study also covers market environment factors, industry structure, company market share, and top companies.
---
About the Author: Matt Zielenski is an Analyst at The Freedonia Group, where he researches trends in the use of building materials and related construction products.