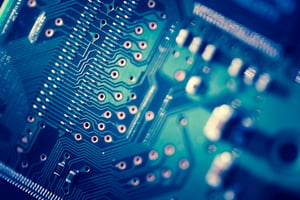 Internet of Things (IoT) is a mega trend that is driving digitization across multiple industries, both at enterprise and consumer levels. While IoT devices may appear as a simple idea, actual implementation is complex as they require high-performance hardware platforms equipped with an integrated architecture of components for computing, sensing, and wireless communication.
As IoT devices are expected to operate in power-constrained environments for a considerable duration of time, managing power consumption intelligently at the system level is one of the key aspects of IoT realization. To address this, the semiconductor industry is playing a key role at the hardware level, with silicon implementation as the basis.
Leveraging system on a chip to make IoT devices power efficient
Among the silicon implementations available, system-on-chip (SoCs) emerges as the most suitable solution for intelligent edge computing in IoT applications. SoCs integrate the functionalities of sensors and computing resources within a single chip. As a result, IoT devices powered by SoCs are projected to offer low power consumption and optimum security by integrating processors (MCU), RF transceivers, memory, power management, connectivity, and sensors closer together in a single unit.
To effect further improvements in the SoC design, semiconductor OEMs are exploring new materials and design techniques that can reduce power consumption in IoT devices.
Key power management solutions in the SoC-IoT ecosystem
Semiconductor chip manufacturers are investigating different concepts to answer the low power need of the growing IoT ecosystem. Let's take a look at some of the major semiconductor OEMs and their offerings:
The sub-threshold processing technique is one of the solutions being explored for creating devices with long-lasting batteries. Ambiq Micro has developed a patented sub-threshold power optimized technology (SPOT) platform for meeting low-power demand of wearable devices, smart cards, wireless sensors, and other IoT applications. In developing the SPOT platform, Ambiq Micro has redesigned every analog and digital circuits in the chip to adapt to the temperature, voltage, and manufacturing variations at different voltage levels.
As competition to Ambiq Micro's SPOT platform, PLSense is set to launch an integrated general purpose Ultra-low power MCU. The platform named PLS10 utilizes the PLSense unique Near/Sub-threshold technology to achieve 3-7x power reduction when compared with other MCU's with similar functionality.
Another industry player, Wiliot is developing semiconductor chips that harvest energy from the ambient radio frequencies, such as Wi-Fi, Bluetooth, and cellular signals, to power a variety of sensors. The size of the Bluetooth chip, combined with the absence of a battery, means it can be produced cheaply and mounted on almost anything.
With the SoC-IoT ecosystem developing significantly, it offers excellent opportunities for companies across sectors. Design implementation is crucial for power management in the SoC-IoT ecosystem, and key semiconductor chip manufacturers are inclined toward getting their design specifications right. Owing to the development of power-efficient designs, SoCs are expected to define future applications in the IoT ecosystem.
For more information on the SoC-IoT ecosystem, read the report Global SoC IoT Innovation Trends, which provides competitive analysis, discusses acquisition trends, and covers key opportunities for industry players.
Click the button below to view the report's description on MarketResearch.com.
---
About the Publisher: Netscribes is a global market intelligence and content services provider that helps corporations achieve strategic objectives through a wide range of offerings, including market research, business intelligence, technology research and investment research.