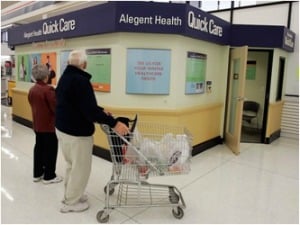 Retail clinic locations have increased 38 percent in the last five years, according to Kalorama Information, a leading publisher of healthcare market research. Retail clinics are positioned for significant growth in the future, as patients continue to seek out convenient, low-cost healthcare services.
Because doctor's offices are usually only open during business hours on weekdays, it can often be challenging to make an appointment, take time off work, and sit in the waiting room before being seen by a medical professional. In contrast, retail clinics offer walk-in services seven days a week, including evenings and weekends.
"Patients are enjoying first and foremost the convenience of the hours and location offered by retail clinics," explains Kalorama Information Publisher Bruce Carlson in a recent webinar on the topic.
Surveys conducted by Kalorama Information show high patient satisfaction rates at retail clinics. Patient visits are also up — and have been rising since 2010.
Retail Clinics vs. Urgent Care
Not to be confused with urgent care, retail clinics "are a medical venue offering healthcare services within a retail setting, usually a drugstore or a mass merchandizing store, with no entrance other than the retail host store," says Carlson.
While urgent care centers often serve as an alternative to emergency rooms — with physicians on staff and more advanced equipment such as an X-ray and EKG on hand — retail clinics are usually run by a nurse practitioner or physician assistant in a single exam room. Retail-based clinics focus on addressing primary care needs such as cold/flu, pink eye, ear infections, prescription renewals, and vaccinations.
Most patients come to a retail clinic for quick services and go to urgent care or doctor's office for more complicated or worrisome conditions.
Largest Retail Clinic Operators
The first retail clinic named QuickMedx opened in 2001. Since then, three retailers have emerged as top industry players: CVS MinuteClinic, Walgreens Healthcare Clinic, and The Little Clinic.
Although retail clinics could theoretically work in all kinds of stores, clinics have survived best in drugstores. Kalorama Information identifies three reasons for this:
The strong brand reputations of drugstores
Drugstores' pre-existing connections to patient health
Decent store traffic
Future Retail Clinic Industry Growth
According to Carlson, "Daily volume will continue to grow as more consumers become familiar and comfortable with retail clinics."
Promotion is a key factor for increasing consumer awareness and driving usage. This may include:
In-store signage
Mobile apps
Advertising
Partnerships
Road tours
While the future looks bright for retail clinics, they continue to face ongoing competition. If physician offices extend their hours, they could eat away at the advantages retail clinics provide. The growing number of urgent care clinics poses another threat.
Watch the Webinar for More Information
For deeper insights, check out Kalorama Information's webinar Retail Clinics: Past and Future. Kalorama Information first covered retail clinics in 2007 and has published seven reports on the topic.
---
About the Author: Sarah Schmidt is a Managing Editor at MarketResearch.com, a leading provider of global market intelligence products and services.