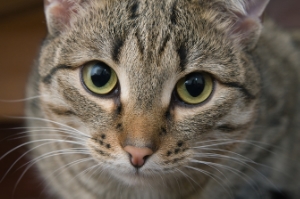 Cat products account for over a third of sales in the CAN$2 billion Canadian pet products market, and Canadian cat owners are fully in step with the pet pampering and product premiumization trends that have long characterized the U.S. market. By some measures, in fact, Canadian cats are more than a whisker ahead. According to pet owner surveys conducted by Packaged Facts over the April to June 2014 period, 30% of Canadian cat owners purchase cat food formulations that feature poultry or meat as the first ingredient, compared with 19% of U.S. cat owners.
More generally, Canadian cat owners post high purchasing rates (similar to those in the pet-pampering U.S.) for various types of specialty cat food formulations. These premium priced (and often super-premium priced) cat foods target health concerns, such as hairballs or aging, or feature nutraceutical ingredients, such as omega-3 and antioxidants, or are positioned as providing our feline companions and family members with fresher, more natural, more "human-grade" food.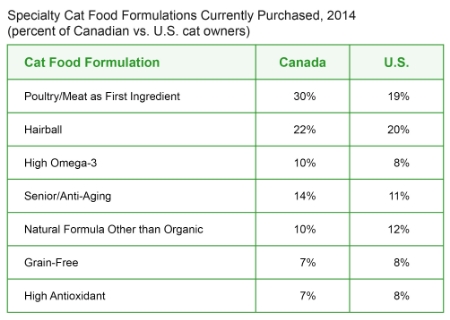 These survey findings reflect the fact that Canada was less affected than the U.S. by the Great Recession, and that the economy in Canada, in marked contrast to trends south of its border, recovered quickly. As charted in Packaged Facts' Canadian Pet Market Outlook 2014-2015 (January 2014), Canadian pet owners aren't scrimping when it comes to their companion animals, generating very healthy annual sales growth in the Canadian pet food industry.
For more information on the Canadian cat food market, check out Packaged Facts' full report. Plus, additional Packaged Facts data on the Canadian pet products market will be presented on September 15, 2014 at the National Pet Industry Trade Show in Mississauga, Ontario.

Thanks for reading!
David Sprinkle
Research Director, MarketResearch.com Publishing
Publisher, Packaged Facts