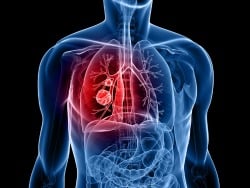 Targeted therapies and the use of molecular profiling to determine which first-line treatments patients should receive have rapidly found their feet in the non-small cell lung cancer (NSCLC) market. Even the segmentation of this market into very small patient sub-populations – such as the EML4-ALK positive group, which accounts for between just 3-7 percent of all NCSLC patients – can prove commercially enticing as pharma companies carve out their own niches.
Non-small cell lung cancer success via narrow streets
Similarly, those patients who are resistant to the first wave of targeted NSCLC therapies – the EGFR inhibitors – also provide a compelling opportunity for drug developers. Around 50 percent of patients who develop resistance to the EGFR therapies do so due to the T790 mutation; drug developers, both Big (such as AstraZeneca) and small (such as Clovis Pharmaceuticals), are now developing promising treatments in this subset of the NSCLC market.
In contrast to this targeted approach, however, the NSCLC market is also firmly in the crosshairs of those players developing PD-1 and PD-L1 antibodies; a new class of anti-cancer 'checkpoint inhibitor' agents are expected to spearhead the emergence of a new generation of immuno-oncology therapies. This approach – whereby checkpoint inhibitors act by removing the tumour camouflage mechanism that causes immune cells to see tumour cells as 'normal' – now appears to firmly represent pharma's best opportunity, in the near-term at least, to developing immunotherapy in the NSCLC space.
Over the past month, GlaxoSmithKline's efforts to develop a vaccine for the treatment of NSCLC – via its MAGE-A3 antigen-specific cancer immunotherapeutic (ASCI) – have fizzled out. Last month the UK drugmaker confirmed that the vaccine had failed to hit 2-of-3 primary endpoints in the Phase III MAGRIT study (with approximately 2,300 patients, the largest ever in NSCLC). Hopes that MAGE-A3 would demonstrate a benefit among a pre-defined subset of patients with a particular "gene signature" were dashed in early April when GSK announced it was terminating the MAGRIT study altogether.
Non-small cell lung cancer success via broad avenues
A disheartening conclusion among some key opinion leaders, which will stem from the failure of MAGE A3, is that vaccine development in the lung cancer space may dry up altogether. This setback is partially offset, however, by what appears to be the paradigm-shifting nature of the PD-1/PD-L1 antibodies.
Unlike vaccines that work by strengthening the immune system or training it to attack tumour cells, once checkpoint inhibitors "unveil" cancer cells, the immune response may be sufficient to defeat the cancer on its own. As reflected by ongoing developments and a plethora of licensing deals, however, there is a broad consensus that the emerging generation of immunotherapies will work most effectively in combination with other drugs, potentially including those already on the market.
In early clinical studies, these checkpoint immunotherapies have shown the potential to not only prolong survival, compared with conventional treatments, but to do so with fewer side effects. Moreover, early clinical trial results show responses of 20 to 30 percent in both squamous and non-squamous NSCLC.
The rapid progression of these therapies – and efforts to maximise their efficacy, both via combinational usage and patient selection – is likely to see the sheer weight of PD-1/PD-L1 clinical studies envelop much of the NSCLC development space over the next few years.
Success in segmenting the patient population in order to improve treatment efficacy will continue to play a key role; however, key opinion leaders appear overwhelmingly impressed with the progress of these immunotherapies, but suggest that identifying which patients benefit the most remains a key element of their development process.
For more information on non-small cell lung cancer immunotherapies, check out FirstWord's recent report, or browse their other pharmaceutical reports.

If you are interested in the general healthcare market, download our free white paper on developments within healthcare IT.
Thanks for reading!
Editor's Notes:
This post was written by Simon King, Executive Editor at FirstWord.
About FirstWord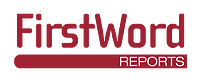 FirstWord belongs to a business group that forms one of the world's largest healthcare knowledge networks. Drawing from these knowledge assets, FirstWord reports deliver insight, analysis and the latest thinking on important trends and the most challenging issues affecting the pharmaceutical industry today. Highly-focused, relevant, up-to-date, actionable intelligence - reports that deliver vital intelligence to give a competitive edge.