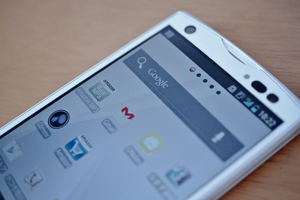 A Mobile Application (Mobile App) is a compact application that is intended to be used on a mobile computing platform such as a mobile telephone, a tablet, or any number of other network aware mobile platforms. A mobile app can be as simple as an alarm clock, or as complex as a business-specific mobile dispatch application. They can be limited to a specific platform, or leverage a common framework to take advantage of multiple platforms.
Originally, our mobile phones served a single purpose, to make phone calls. Early mobile phones had a rudimentary set of features that all related to the calling functions: call timers, recent call lists, frequently called numbers, and a simple clock function. In the 90's digital services gave us additional features, SMS joined the devices capabilities, and soon cellular packet data as well. Mobile phones started to include additional applications bundled with their software.
However, they were all bundled with the phone's software. You were bound to what came with your device and had no provisions for adding other features. In the early 2000's that changed, some manufacturers standardized on a portable Java-based language to allow third party applications to run on the devices. And with that modern apps were born. If the device owner can download, install, or remove the application it falls into the Mobile App category.
Today, there are a multitude of Mobile Apps to choose from, transforming how we think about our mobile devices. These applications are authored by device makers, small software companies, independent third party developers, or even large content providers.
Mobile apps can help businesses with the following:
Customer service
Value added-services (enhanced CRM)
New revenues streams such as selling apps on the business's intellectual property
It could be a tool for remote workers
Mobile apps can solve customers' problems and enhance the customer relationship management programs. It also can be used as a marketing tool. Currently large firms like banks, malls and other enterprises are using the mobile apps to generate new revenues and businesses.
Learn More
Mind Commerce's report, Mobile Application Marketplace 2015: Market Analysis and Assessment of Future Evolution and Opportunities provides a foundation for understanding the state of the market for mobile applications, leading players and strategies, ecosystem dynamics, and the future direction and opportunities for development on mobile platforms. All purchases of Mind Commerce reports includes time with an expert analyst who will help you link key findings in the report to the business issues you're addressing. This needs to be used within three months of purchasing the report.
Interested in more information on the Telecom & Wireless industry? Check out MarketResearch.com's Mind Commerce Knowledge Center solution!

Editor's Note:
The blog post is collaboratively written by members of the Mind Commerce staff.
About Mind Commerce:

The Mind Commerce® mission is to provide customized research, consulting, training, and writing services for the telecommunications and IT industry. Mind Commerce clients include manufacturers, developers, service providers, industry organizations, and government. Mind Commerce differentiates itself from its competition by meeting the unique needs of its clients through customized product development and service delivery.
Mind Commerce is also available on Profound.com...
Purchase individual report sections for a pro-rated price. Visit Profound.com to learn more.