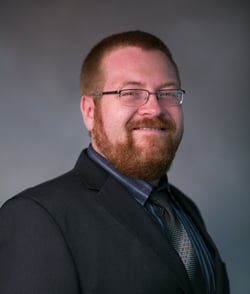 Gleb Mytko has written more than 35 industry studies covering a range of topics over his 10+ years with The Freedonia Group, primarily specializing in the global construction and heavy equipment and components markets. He has also contributed to a number of custom research projects, handling primary and secondary research for Russian and Eastern European markets.
Gleb holds a B.A. in International Relations from Cleveland State University, in addition to an MSc in International Relations and Diplomacy through a program jointly offered by Leiden University and the Netherlands Institute of International Relations Clingendael.

Gleb has been interviewed twice by NPR's Marketplace program. Furthermore, his research has been cited in periodicals like Modern Materials Handling and Intelligent Transport, and he has published articles in such trade journals as Eurotransport and Walls & Ceilings. He has authored such industry studies as Global Motorcycles, Global Mining Equipment, Global Agricultural Equipment, Global Construction Machinery, Global Forestry Equipment, Global Filters, and Global Buses.
Check out the Q&A below for Gleb's insights on conducting industry analysis and the value of market research today.
What is your favorite part of the study writing process?
Today, there are countless publications, websites, trade groups, government bodies, companies, and other organizations covering industries. With all of the information available, it is hard for a person to know which are the most informative and reliable. My favorite part of the study writing process is gathering a wide range of data points, analyzing the information, and producing the most accurate figures for our customers.
What is the most interesting thing you've been able to do as part of your job?
As an avid listener of NPR, I am very familiar with many of their programs. In the last two years, I have had the chance to appear twice on NPR's Marketplace to discuss Harley-Davidson. Because of the program's wide reach, I had many family and friends reach out to me after hearing the interview, which I enjoyed greatly.
What adjectives come to mind when you think about the people you work with at Freedonia?
Helpful. From my experience, every single person that works at Freedonia is always ready to do whatever it takes to support your project and help you succeed. Most offer to help before you can even ask them, and always go above and beyond. Freedonia truly is one big team.
What do you wish clients knew about the work you do?
How hard the whole Freedonia team works to make sure that our studies are reliable, meet the needs of our customers, and become better over time. With the large quantities of subpar market research out there these days, Freedonia remains completely focused on ensuring the quality of our reports.
How do you engage with clients as part of your job?
Freedonia's industry analysts are constantly in touch with our customers. Prior to starting a study, we reach out to past buyers in order to get feedback about what they liked and what changes they would like to see. When possible, we also reach out to past customers during the research phase in order to improve the quality of our numbers.
Afterward, Freedonia's industry analysts are happy to answer questions our clients have. On many occasions, I have had phone calls with returning customers and subscribers, or put together supplemental information for them.
Why is market research so important for companies today?
Most industries today are truly global. For any company to be competitive, they must have access to high quality, reliable market research, which can guide everything from investments to product development. Understanding the competitive environment of a given industry and its growth potential allows companies to develop strong short-term and long-term growth strategies.
What's the biggest misconception people have about market research?
Far too many people assume that the market research being sold today is of good quality. On the contrary – the amount of subpar market research that has become available is staggering. While these reports may be inexpensive, the information they contain is not always reliable and can be misleading. Errors and mistakes are quite common in such reports.
Freedonia, which has been synonymous with high quality research for more than two decades, will continue to be a leading source of reliable information and analysis for our clients.
What publications do you read regularly?
In addition to reading numerous trade publications, I rely on newspapers and economic journals to improve my understanding of both global commerce and specific industries. The Financial Times is among my favorites because of the quality journalists it employs, its lengthy and comprehensive articles, its truly global scope, and its access to many of the world's leading thinkers.
What's the most interesting thing you're working on right now?
The global e-bike market – which has only started to develop in recent years – is currently one of my favorite topics to research because it is constantly evolving and major developments occur on a regular basis. The number of industry participants pursuing different growth strategies has increased tremendously in the last three years, and the regulatory environment for e-bikes is still being developed, which makes the industry a little more chaotic.

The electrification of the global bus industry is another critically important development. With growing concerns about the environmental impact of transportation, many public and private bus operators are investing in electric, hybrid, and other alternative fuel models, and this has sparked a wave of technological innovation.
---
About Freedonia
The Freedonia Group, a division of MarketResearch.com, is a leading international industrial research company publishing more than 100 studies annually. Since 1985, Freedonia has provided research to customers ranging in size from global conglomerates to one-person consulting firms. More than 90% of the industrial companies in the Fortune 500 use Freedonia Group research to help with their strategic planning.