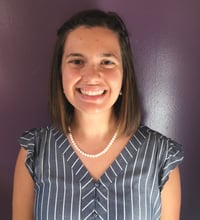 Our clients are familiar with our research, but they may not know the people behind the scenes who work hard each day to produce, edit, and present our market intelligence in the best way possible. From time to time, we like to pull back the curtain to introduce you to the analysts, editors, and other team members who make it all happen.
Today, we're featuring Josephine DiNovo, who worked as a copy editor at The Freedonia Group, a division of MarketResearch.com, for more than three years before transitioning into a graphics coordinator role. She is responsible for designing and producing the graphics for all of Freedonia's industry studies. The infographics she creates help communicate key concepts quickly and effectively and add visual appeal to data-packed reports.
Before coming on board at Freedonia, Josephine earned a Bachelor of Arts in English Literature and German Literature from Ohio Wesleyan University. Learn more about Josephine's work in the interview below.
What is your favorite study that you've worked on?
I enjoyed creating infographics for Recreational Vehicles in the US. The topic was interesting, and I enjoyed the challenge of turning somewhat dense information about the types of RVs into concise and clear infographics that would greatly benefit our readers' ease of comprehension. I also made a graphic for a different study that compared the male and female US population by generational cohort; that graphic was really fun to make and served as a quick way to convey a lot of demographic information.
What are some improvements that have been made to reports?
A major improvement to Freedonia reports has been making them easier to read by using infographics and effective bullet placement to allow readers to efficiently and clearly follow the text and analysis. Our new infographics offer readers a quicker understanding of such concepts as the scope of a market breakout or the growth rates for different products before delving into detailed text. These breakdowns along with shorter paragraphs and text tables allow readers to easily access the quality information and insights that have always been the core of Freedonia's studies.
What's your favorite office tradition?
My favorite Freedonia tradition is our Halloween potluck. People prepare all sorts of delicious and unique foods to share with everyone—and they often take the extra time to make Halloween-themed treats. I enjoy the experience of eating together and watching everyone have a good time (especially those who are wearing clever Halloween costumes).
What adjectives come to mind when you think about the people you work with at Freedonia?
Brilliant, dedicated, experienced, and knowledgeable. They're also funny, kind, generous, and creative.
What's the most interesting thing you're working on right now?
I am very excited about one of my current projects, which is improving our key indicators graphics to be more visually interesting while also more effectively conveying the content. I am working to add graphic elements to convey such concepts as the size of a country's housing market or manufacturing sector.
---
About Freedonia
The Freedonia Group, a division of MarketResearch.com, is a leading international industrial research company publishing more than 100 studies annually. Since 1985, Freedonia has provided research to customers ranging in size from global conglomerates to one-person consulting firms. More than 90% of the industrial companies in the Fortune 500 use Freedonia Group research to help with their strategic planning.