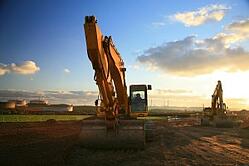 The construction and mining machinery market represents an extremely cyclical industry. When times are good, the world market experiences heightened sales growth; however, when facing economic downturns, market output can experience severe reductions.
According to recent market research, the global construction and mining machinery market is predicted to grow at an annual rate of 9.3% over the next four years through 2018. Leading global market research provider, Global Research & Data Services, has forecast this 9.3% p.a. growth in market demand will have the highest impact on the following potential markets: China, Greece, Latvia, Portugal and the United States.
Prior to this year, the market saw a steady increase with an average annual growth of 10.5% between 2007 and 2013. However, although the market has been experiencing steady growth overall, it remains fairly segmented, as excavators, shovel loaders and mechanical shovels account for 22.9% of the global market demand. Approximately a dozen other equipment sectors control the remaining market share, 36.9% of that share being allocated to machinery parts.
Although the strongest expected growth is forecast to impact half a dozen or so countries, Australia, Canada, China, Japan and the U.S. continue to represent the largest construction and mining machinery markets. The following image depicts the construction and mining machinery market size in comparison to the actual market growth of various countries: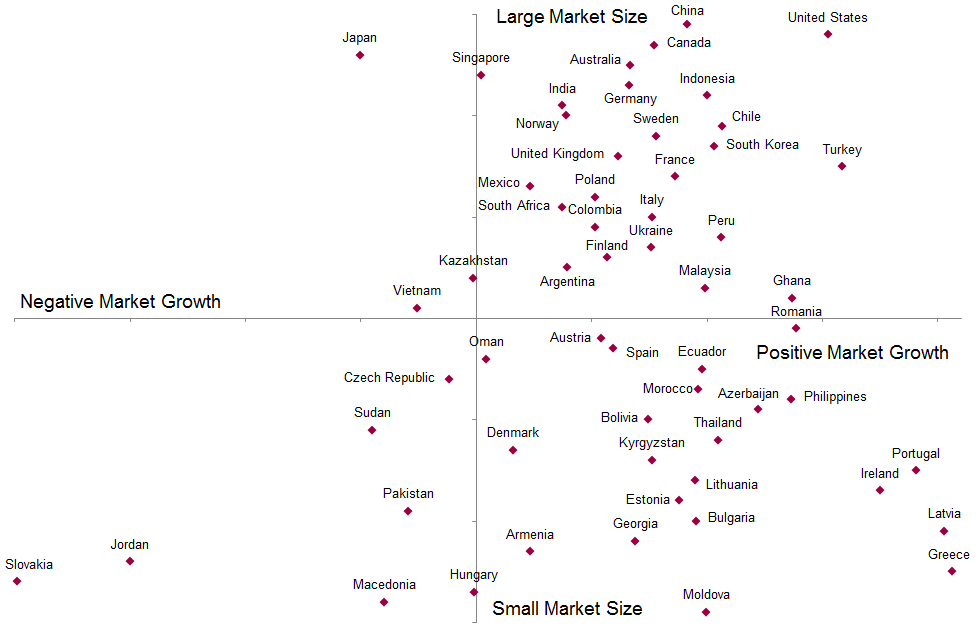 By analyzing the market size, trends, forecast market growth and potential changes to the market environment, Global Research & Data Services generated a Market Potential Rate calculation in order to determine the potential top 20 construction and mining machinery companies. Among the leading players in the world construction machinery market, big name companies like BAUER Maschinen GmbH, Caterpillar, Hitachi Construction Machinery, and many others continue to remain strong. As for the top global mining machinery markets, companies like Caterpillar, Bell Equipment Limited, ERA Mining Machinery Limited, and others rise to the top of the list.
According to the U.S. Department of Commerce International Trade Administration, as the world's largest construction and mining machinery market producer, U.S. companies have received worldwide acknowledgement for their "high quality, state-of-the-art" equipment. As a result of this reputation, for instance, during 2008, U.S. exports recorded a 21.35% increase to $23.67 billion, while imports dropped 3% from $15.26 billion to $14.8 billion; however, both imports and exports have steadily increased since 2008 as a result of "worldwide demand triggered by increased spending on infrastructure development as well as a rise in commodity prices in the mining sector."
While many countries are experiencing similar growth, China will likely remain the most important growing market for the industry. According the the International Trade Administration, the industry will definitely continue to fight for a larger role in the China market.
Many industry professionals refer to China as the "world's largest construction site." Competition for the China market will be fierce. Quality, price, competitive financing, and after-sales-service will continue to be important factors for American companies and will determine ultimate success in China as well as in the international marketplace as a whole.
While international competition continues to rise, sales and market performance will heavily depend on financing packages due to the expensive nature of construction and mining machinery. Foreign players will continue to gain more and more of the market shares as the industry landscape shapes over the coming years.
Interested in additional information on the construction and mining machinery market? Browse reports from one of our featured Construction and Manufacturing market research publishers, Global Research & Data Services.
Thanks for reading!
Ashlan Bonnell
Managing Editor,
MarketResearch.com
Editor's Note:
Unless otherwise cited, all numbers used in this text are based on the Global Research & Data Services market research report Global Construction and Mining Machinery Market to 2018 - Market Size, Trends, and Forecasts.