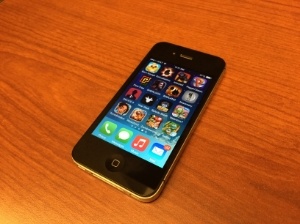 In the mobile gaming ecosystem, an app store works as a major OTT distribution platform in today's highly fragmented digital distribution channel. An app store distributes non-network mobile gaming applications under a downloadable format followed by a paid, free, or in-app-purchase model, or a combined model. The mobile game application then uses the mobile device's platform to run the gaming software. The popular app stores are Google Play and Apple Appstore; however, there are other app stores who also played major roles in mobile game distribution such as independent app stores run on iOS or Android.
Historically, discrepancies among devices and operating systems have made it exceedingly hard for developers to create hundreds of versions of games in order to reach a worldwide market. While mobile device fragmentation is still growing, fragmentation is also now entering the realm of mobile app distribution. Mobile gaming is not beyond this trend of fragmentation.
A few years ago mobile gaming distribution was mainly a carrier-led trend, but with the massive advent of the iOS and Android platforms, the trend has substantially shifted towards OTT. At the same time, the explosion of socialization (initially Internet only and later in mobile) has greatly changed today's mobile gaming behavior as well as distribution. Various mobile application's store, social gaming platform, and browser-based download has led to great viral adoption and popularity.
Future market opportunities
In 2014, mobile gaming app stores' combined earning was $7.1 billion, which is expected to grow with a combined CAGR of 21.5% during the 2015-2020 period. Among them, Apple leads the market share followed by Google Play. Mind Commerce projects that application stores as a whole will grab 25% of worldwide mobile gaming revenue and 22% of app stores revenue by 2020.
To gain success in today's crowded marketplace, publishing a game in one language is not enough; publishers need to create multiple localizations in order to cover the top grossing and emerging geographical markets. Mind Commerce recommends multiple languages for mobile app localization without ignoring local stores. Publishers need to select target markets very carefully since the US is not the only large market for the mobile gaming app store ecosystem as many Asian countries are key markets.
Learn More
Mind Commerce's report Mobile Gaming Application Store Analysis 2015 covers app store trends in mobile gaming, geography and language analysis, and native vs. non-native app store analysis. This report includes recommendations for stakeholders and is a must read for ICT leaders as well as business executives, directors, and managers.
Interested in more information on the Telecom & Wireless industry? Check out MarketResearch.com's Mind Commerce Knowledge Center solution!

Editor's Note:
The blog post is collaboratively written by members of the Mind Commerce staff.
About Mind Commerce:

The Mind Commerce® mission is to provide customized research, consulting, training, and writing services for the telecommunications and IT industry. Mind Commerce clients include manufacturers, developers, service providers, industry organizations, and government. Mind Commerce differentiates itself from its competition by meeting the unique needs of its clients through customized product development and service delivery.
Mind Commerce is also available on Profound.com...
Purchase individual report sections for a pro-rated price. Visit Profound.com to learn more.