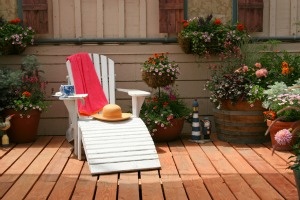 As the U.S. economy continues to recover from the effects of the recession, landscaping products such as lighting, pavers, heating elements, and synthetic turf will see increased demand from consumers and professionals. Healthy annual growth of 5.3 percent is forecasted through 2019. In 2014, decorative products were the largest category, with outdoor lighting receiving increased attention.
To find out what's in store for 2016, read on to learn about three major trends that are shaping the $6.3 billion industry for landscaping products in the U.S.
Outdoor Living Plays a Key Role in the Market
Though product sales are sensitive to many factors such as fluctuations in personal spending, housing completions, demographic trends, and weather, the increased interest of homeowners and restaurants in utilizing outdoor areas has become a key demand driver.
As part of the outdoor living trend, homeowners create outside kitchens and living rooms, and businesses extend outdoor areas to expand their seating space. Urban communities increasingly create "parklets," small green spaces that may feature flower beds, container gardens, walking paths, water features, seating, bird watching opportunities, and statuary. Some communities have used these parks as a way to address the issue of abandoned homes in blighted neighborhoods, tearing down the structures and replacing them with this type of public green space.
When it comes to designing an outdoor space, the overall colors, textures, sights, and sounds are important. Natural colors, such as those of rock, brick, and concrete continue to be popular. In addition, a number of hardscaping products, such as pavers and ready-mix concrete, are being manufactured in a wide range of colors and styles to suit a variety of different tastes and design aesthetics. Landscape lighting not only extends the amount of time that these spaces can be used, but also highlights architectural features, monuments, and plants during non-daylight hours.
Long-Term Weather Patterns Boost Popularity of Xeriscapes
Landscaping or gardening that reduces the need for extensive irrigation is increasingly important in drought-ridden areas in the U.S. As cities restrict water usage, demand will rise for landscaping products that use less water such as hardscaping and synthetic turf. Homeowners trying to reduce water use are shifting to pondless waterfalls and fountains that re-circulate water.
Environmental Concerns Drive Product Innovation
New products are entering the market that use solar power and lower energy consumption levels. Reducing water runoff, especially in public areas, is a concern driving the growth of permeable pavers that allow rainwater to drain through gaps into the subsurface, limiting the amount of water diverted to storm sewers.
Recycling is another environmental issue that plays a role in landscaping, in terms of both recycled content and the recyclability of a given material. Many suppliers have improved both the use of recycled content and the recyclability of their landscaping products over the past several years.
Where to Find Additional Analysis
Industry Study Landscaping Products, 273 pages, analyzes the U.S. landscaping products industry. It presents historical demand data and forecasts by product, end user, and region. In addition, the report covers industry structure, market share, and competitive strategies, and profiles 35 influential companies. This report is written by the Freedonia Group, a leading provider of reliable and unbiased market research reports and consulting services for more than 30 years.
New White Paper on the Landscaping Industry
Interested to learn more information about the market in 2018 and beyond? Download a new white paper on lawn and garden equipment. Discover the key factors driving industry growth and in which countries or regions that impact is strongest.
---
About the Author: Corinne Gangloff is the Media Relations Director at The Freedonia Group, a division of MarketResearch.com.