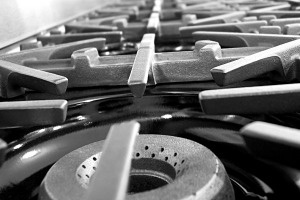 It is said that sooner or later, all that is old is new again. When it comes to household cooking appliances, all that is old needs to be replaced again — eventually.
The need for replacement is the fundamental driver of demand for US household cooking appliances, which include gas cooking appliances, electric cooking appliances, and microwave ovens. Consumers often buy a new model upon moving into a new home, or when an old appliance becomes nonfunctional or outdated. Of course, purchase decisions are influenced by key trends.
Read on to find out:
How appliance producers are using smartphone capabilities to improve users' cooking experiences
For which types of cooking appliances are sales expected to grow the fastest
Which Chinese company became a leading supplier of household cooking appliances to the US market in June 2016
Hey Siri, Make Me Dinner
Smartphones let us do just about everything, from paying our bills to monitoring our health to — as of recently — catching Pokémon. Now, your smartphone can even help you cook. Smart appliances, designed to be monitored and controlled from a personal electronic device, enable users to schedule tasks such as cooking times to maximize the efficient use of their time.
For example, GE Appliances' GE Profile line of wall ovens can be controlled via smartphone to set preheat, timer, temperature, and other functions. Limited interconnectivity among various platforms has proven to be a barrier to further expansion of this technology, but efforts to promote a more seamless experience for consumers are gaining traction in the industry.
Now We're Cooking with Gas
Among household cooking appliances, gas-powered types are forecast to increase 4.6% annually to 2020, outpacing growth in electric appliances and microwave ovens. Suppliers will continue to benefit from the product's temperature precision as compared to other types of cooking units, as well as continued low natural gas prices — which impact the cost of using a gas appliance.
GE Says Goodbye, Haier Says Hello
In June 2016, General Electric (GE) completed the sale of its GE Appliances division to Chinese appliance manufacturer Haier for $5.6 billion. GE's exit from the appliances business is sure to affect the industry that serves US demand for household cooking appliances, but the impact on consumers will likely be minimal. The move significantly boosts Haier's presence in the US market as a business, but most consumers won't know the difference; appliances sold by the division continue to feature the GE Appliances brand.
Learn More
Need more information? We've got you covered. For numbers and analysis covering US household cooking appliance demand and shipments by product category for 2005-2015 with projections to 2020 see Household Cooking Appliances: United States, a report published by the Freedonia Focus Reports division of The Freedonia Group. This report also offers discussion of pertinent trends in trade, product distribution and marketing, technological and product development, and an overview of the supply base.
While you're there, check out some of our other major household appliance reports, which include Household Laundry Equipment: United States, and Household Refrigerators & Freezers: United States.
---
About the Author: Zach Frye is an Analyst with Freedonia Focus Reports. He conducts research and writes a variety of Focus Reports, which offer concise overviews of market size, product segmentation, business trends, and more.