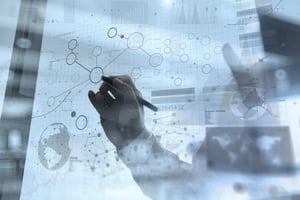 It is a major cause for concern that there is no proper vaccination and official treatment available that can help mitigate the coronavirus pandemic so far. Thus, it is imperative for researchers and scientists to explore different approaches and devise ways to counter this global health crisis.
Several researchers are of the opinion that with the help of artificial intelligence identifying patterns in the data collected from the large pool of samples, useful predictions can be made related to the infection, and systems can be developed to enable faster testing of drugs across all phases of drug approval.
Since the novel coronavirus is known to undergo phases of mutation, it is essential that the treatment formulated must be able to cater to various forms of this virus. Therefore, some major companies in the medical industry are pursuing the use of artificial intelligence (AI) to discover the potential medicine or vaccine for the treatment of novel coronavirus. These companies include Vir Biotechnology Inc., Atomwise, Iktos, Insilico Medicine Inc., and Moderna Therapeutics, among others.
Generally, to develop a new drug, researchers take several years to find the right composition of drugs and then test the same. However, with the help of artificial intelligence, analysis of molecular compounds present in the body has become easier for researchers and helps them in finding patterns in the atoms and other compounds that are not easily and quickly identified by the human eye. AI can help researchers in analyzing several compounds in the body in far less time and determine the precise molecular compound on which testing has to be conducted.
In this regard, it is important to understand how artificial intelligence-based systems are supporting researchers, institutions, and doctors in detecting, controlling, and treating the novel coronavirus.
How has artificial intelligence helped in the detection of COVID-19?
The HealthMap that is affiliated with Boston Children's Hospital is an artificial intelligence-driven map, which first recorded the increasing number of unexplained pneumonia cases and raised an alarm. This happened when the coronavirus infection was restricted only to Wuhan, China. The AI-based tool uncovered the signs of outbreak of COVID-19, by decoding the Chinese language and one of the news pieces shared over a Chinese social media platform.
Can the use of AI technology help control the spread of COVID-19?
Controlling the spread of the virus has become a significant global challenge at present. Owing to this reason, several organizations are trying to setup systems that are based on AI for designing algorithms related to analytics and visualization tools that can help researchers to identify the specific type of technology that can control the further spread of the virus. Artificial intelligence is largely helping in containing the spread of the disease by aiding in data collection from remote locations. The data is then fed to the software based on an artificial intelligence model for analysis and study on the basis of parameters such as incubation period, risk factors, and transmissibility.
In addition, AI-based tools are enabling doctors to assess quarantined patients from a distance with the help of robots. These AI systems are known to further enhance the capabilities of doctors and provide better precision and accuracy.
Thus, vital ways through which AI-based systems are helping control the spread of coronavirus are as follows:
Data sharing
Studying the molecular structure and identifying drugs
Using robots for cleaning
Controlling the spread of inaccurate information at different platforms
However, there are specific concerns associated with AI, including the quality of data being used, accuracy of the AI tools, and absence of human operations, which can still be a cause of concern for many people. In fact, the relevance and importance of these points are noteworthy at the present moment, considering the health crisis the world is currently facing.
Moreover, the challenges related to volume of data and its quality and accuracy are hampering the growth of AI-based analytics tools as even a minute inaccuracy can alter the results of the research being conducted to identify the prevention and treatment methods for coronavirus infection. Considering the alarmingly increasing number of COVID-19 cases, many companies cannot afford to lag behind in their research capabilities during such times of emergency.
How can AI-based platforms help find a viable treatment in case of novel SARS-CoV-2?
Artificial intelligence-based systems are highly beneficial for researchers as they can study and identify the molecular structure of the body much more closely and accurately and can help doctors in developing drugs and treatments that treat targeted molecular structures that are affected due to infection.
One of the first companies to identify the possible health crisis in December 2019 was Bluedot. The central technology of this system is Big Data as it can compile data from numerous sources. The system identified the increasing unusually high number of pneumonia and pneumonia-like cases in Wuhan, China, around December 30, 2019.
Further, several organizations are also using AI-based tools to study the molecular setup of other existing drugs that were developed for other diseases to understand if they can be repurposed to be used as a cure for coronavirus infection.
On 5 March 2020, DeepMind, a Google subsidiary, published information related to the prediction of effects of protein structure associated with coronavirus that can lead to COVID-19. It was also mentioned that this outcome has not been experimentally verified.
However, the researchers at DeepMind expect this discovery of protein structure to further enable the research for a treatment for COVID-19 or can act as a hypothesis generation platform for future experiments that are conducted for developing therapeutics. Moreover, it is necessary that the challenges, including data bias and lack of data accuracy, among others, that AI system pose must not be overlooked. In addition, highly sophisticated AI-based tools require large amounts of data for analytics; therefore, in case of the emergence of a new type of disease or infection, the availability of data is negligible, and thus can pose as a hindrance for researchers to identify the pain points.
Another recent instance where AI-based tools are being used for identifying treatment for Covid-19 is by Moderna Therapeutics. The data regarding their activities is currently inaccessible; however, it has been disclosed that the Seattle-based company is in pre-clinical trial stage of vaccination for COVID-19. Once the trial is over with 20 to 25 selected volunteers and data population is undertaken, its effectiveness would then be tested on larger number of patients.
An Israeli research institute has recently claimed that a vaccine for COVID-19 can be made available in 90 days. They claimed that with the help of AI-based system, they have proof of concept that the DNA for SARS-CoV-2 i.e. novel coronavirus is similar to that of SARS. Furthermore, they have already been carrying out a number of studies on that and can possibly discover the vaccine sooner than later.
With an aim to support various organizations and institutions globally in the fight against coronavirus, companies such as DAMO Academy, Alibaba Cloud, and DingTalk have collaborated to launch a multiple cloud-based AI systems. These systems are being developed with a sole aim to assist researchers, decision makers, and medical practitioners to mitigate the challenges they face.
---
About the Publisher: BIS Research is a global market intelligence, research and advisory company that focuses on emerging technology trends that are likely to disrupt the market. Its team includes industry veterans, experts, and analysts with diverse backgrounds in consulting, investment banking, government, and academia.