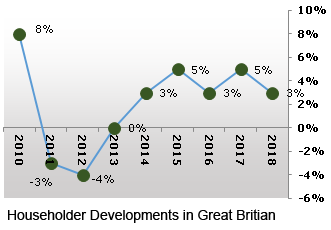 Householder developments are developments undertaken by homeowners which require planning permission. These include, for example, building extensions, porches, roof extensions and any alterations to homes and gardens that are not covered by permitted development rights. There are a number of situations where planning permission is not needed, (permitted developments) such as smaller extensions, conservatories of a certain size and so on.
The scale of the market for householder developments is, therefore, indicative of the size of the market for home extensions, but is by no means the entire home extension market.
Householder Developments Market
The market for householder developments has been volatile in recent years reflecting the impact and residual affect of the recession, the subsequent lower levels of equity withdrawal and also the tighter mortgage restrictions, which had traditionally funded a large proportion of major home improvement projects prior to the economic downturn. These factors obviously impacted the home improvement market in a negative way and over a number of years.
The number of householder developments in Great Britain increased in 2010, supported by higher levels of consumer confidence and RMI activity. The trend towards 'improve, don't move' also benefited the market for higher value home improvements. However, the next two years experienced static domestic RMI expenditure, a fall in consumer confidence, restricted mortgage lending and an ongoing challenging economic and fiscal situation, leading to reduced numbers of householder developments.
The situation showed a modest improvement in 2013, but with little or no growth, followed by growing consumer confidence and a more optimistic housing market in 2014, which drove an improved RMI sector and an increased number of householder developments.
The housing market, in particular, is improving currently in Great Britain, as illustrated in AMA Research's housebuilding report, with increasing average house values and a higher number of house moves supporting the home improvement sector.
Forecasts in the short- to medium-term are for modest to good growth in the householder developments sector. This reflects growing consumer confidence and spending and a return to the trend of carrying out higher value improvements by home owners. Interest rates also remain favourable which should encourage consumers to undertake these higher value projects, such as home extensions.
In addition, the relaxed planning regulations are also likely to support a number of larger housing extensions within the permitted development rights, further contributing to the overall residential RMI industry development.
Single Storey Extensions
Projects in this sector include single storey extensions to the side, front or rear of the dwelling requiring planning permission and/or prior approval. Single storey extensions are estimated to account for around 37% of householder developments and are the largest single sub-section of the householder developments sector.
However, a significant number of this type of development no longer require planning permission under permitted development rights.
AMA Research estimates that around one-third of all single storey extensions are larger developments extending 4+ metres to the rear of the property. The nature of the extension can vary from the installation of a new kitchen and open plan living area, to a home office and downstairs cloakroom. Larger extensions usually incorporate two or more of these elements and would have positive implications for floorcoverings, windows, and so on.
The primary reason that is given by homeowners for single storey developments is for a new kitchen and dining area, with a new kitchen featuring in over 70% of cases. The kitchens market has been more positive in recent years, as detailed in our kitchen furniture, worktops and sinks report. The shift towards open plan living areas has supported the single storey extension market, and driven the trend to extending the home with integrated design, to improve the kitchen and dining facilities.
More information can be found in AMA Research's report: Home Extension Market Report GB 2014-2018 Analysis, or browse their related reports on the industry.
Editor's Notes:
This post was written by Keith Taylor, Director of AMA Research.
About AMA Research:
AMA Research has been established as a specialist provider of market research information for the building, construction and home improvement industries for more than 20 years. With over 150 reports available, they are widely recognised as the UK's leading specialist provider of published research within this sector. All reports are researched, analysed and written by marketing professionals with experience of the building products industry and our clients include many of largest suppliers of building and home improvement products in the UK and abroad.
AMA Research is also available on Profound.com...
Purchase individual report sections for a pro-rated price. Visit Profound.com to learn more.