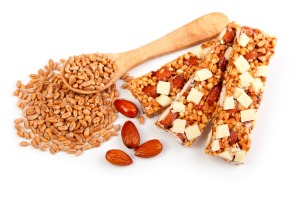 Research from food industry reports continue to show the increase in two eating habits of Americans: we are starting to make healthier food choices, and we are having more snacks throughout the day. The idea of having three meals a day is beginning to fade, and the age of snacks is moving in. The trend of healthy snacks is predicted to have increasing sales within the next decade, and this growth is driving healthy snack bars to include healthier and high-protein ingredients. Industry leaders are taking advantage of cereal/granola bars #2 sales ranking for snacks by creating their own snack bars. Popularity of companies promoting their own snack bars, as well as including high-protein bars in their selection has become a new trend for industry leaders.
Popularity
A report by Packaged Facts revealed that "healthy-ingredient snackers are 90% more likely to live in households consuming energy/diet snacks and bar options." With the growth of snackers in America, top industry leaders are making new and improved snack bars. Companies from Kellogg's to Starbucks are exploring the opportunities in making healthy snack bars. With so many new players, originality in new flavors and ingredients has increased in order to keep customers interested.
Flavors of snack bars are getting wilder, providing new varieties for snackers. Kind & Strong snack bars recently got bold with new flavors such as Hickory Smoked, Thai Sweet Chili, Hone Smoked BBQ, Honey Mustard and even Roasted Jalapeno. The plain grain and chocolate cereal bars are no longer the only options.
With regards to superfruit ingredients, apparently the stranger the ingredients, the more attractive the snack bar. Alexander Schauss, CEO of AIMBR Life Sciences says, "If one has not heard of it before, or cannot pronounce or spell it, it will receive more attention." So, healthy ingredients, such as superfruits, like açaí and goji berry, and ancient seeds, like quinoa or amaranth, are listed on the front of bars so that we are more apt to reach for them when purchasing our snacks.
Companies are proudly taking advantage of health-seeking shoppers by clearly labeling snack bars gluten-free. Little do consumers know, most snack bars are naturally gluten-free. But, this small form of advertisement is pushing brands into the top of healthy snackers' choices.
Protein

One of the main elements consumers are looking for in their snack bars is a bar that will provide them with all the nutrients they need and keep the bad stuff out, specifically low sugar and fat content, particularly fiber and protein. High-protein snack bars have an advantage in the market because the idea of protein is currently a hot marketing angle for manufacturers in the snack industry. According to a Packaged Facts April-May 2014 survey, 63% of U.S. adults make a point of consuming plenty of protein.

Blurring the line between snacks and meals is a way to successfully push the snacking idea deeper into the minds of healthy food consumers. Boasting the high-protein content creates the idea that a snack bar can replace an entire meal, pushing consumers to that particular bar. So, pushing protein content and mixing in grains, such as quinoa, hemp and flax, add value to a single snack bar to create "heartier" versions.

As the snacking trend continues to become more popular, companies are going to need to maintain their creativity with snack bars to keep them at the top of the lists. If new flavors and ingredients continue to be used, while keeping levels of nutrients high, snack bars will continue to be a healthy snacker's top choice.

For more information on protein trends and the increasing popularity of snack bars, check out Packaged Facts' report Proteins-Classic, Alternative and Exotic Sources.

To find out how this and other trends can create opportunities for your business, download our free white paper, or check out our culinary trend tracking series.
Thanks for reading!
Caitlin Stewart
Marketing Intern
MarketResearch.com