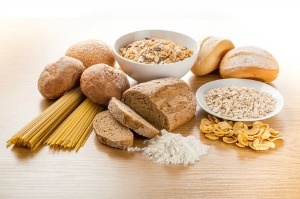 You may be eating one right now. And you'll probably eat a few later on today. In fact, many health experts recommend consuming multiple servings of these foods each day.
So put down that cereal, pasta, pizza, sandwich, or organic/whole grain/quinoa snack chip that you're eating, and let's talk about … grain-based foods.
Shipments of grain-based foods from US bakeries and factories are forecast to reach $110 billion in 2020, representing annual increases of 2.0% from $99.8 billion in 2015. Population growth will drive demand for such foods, since many of these products serve as dietary staples.
In addition, grain-based food producers will continue to benefit from three major product trends, highlighted below.
1. Ancient Grains Grow in Popularity
Think of them as the country cousins of wheat. So-called "ancient grains" such as buckwheat, kamut, quinoa, and spelt are relatively unchanged by selective breeding compared to modern wheat. In addition, these grains tend to undergo less refinement, preserving the fiber content. As a result, many consumers are embracing ancient grains as healthier alternatives to wheat.
Food producers are responding with a variety of products — from bread to chips — formulated with ancient grains. For example, Pepperidge Farm (Campbell Soup Company) added Harvest Blends Ancient Grain — a bread made with amaranth, quinoa, sorghum, and teff — to its lineup of baked goods. Each loaf carries a suggested retail price of $4.29. Foods with ancient grains are often higher in price relative to their wheat counterparts, contributing to growth in shipments value.
2. "Free-From" Products Appeal to Health-Conscious Consumers

When influential food activist and blogger Vani Hari (aka "Food Babe") writes an article criticizing a food ingredient, the food industry takes notice. That's because many consumers follow Food Babe and other activists in scrutinizing labels and avoiding products with artificial colors, flavors, and other ingredients. The food industry, including grain-based food producers, have responded to this consumer demand with a variety of "free-from" foods with more natural ingredient profiles.
In addition, many consumers are flocking to gluten-free foods amid growing awareness of gluten-related food sensitivities. In fact, the impetus to avoid gluten — coupled with the popularity of Mexican-inspired cuisine — helped to drive above-average growth in corn product consumption between 2005 and 2015.
3. Snackification: Meals Undergo a Snack Attack
Consumers are increasingly forgoing the traditional three square meals a day in favor of convenient, on-the-go snacks. This "snackification" trend is driven not only by busy lifestyles but also by a desire to avoid the hassles of clean-up. In fact, in a recent survey, 40% of millennials rated cereal as an inconvenient breakfast choice due to the necessity of washing the bowl and spoon after consumption.
While this is bad news for breakfast cereal, food producers will nevertheless benefit as consumers opt instead for other grain-based options such as breakfast cookies (yes, that is a thing!) and breakfast sandwiches.
To discover other key trends impacting the US grain-based foods industry, read Grain-Based Foods: United States, a report recently published by the Freedonia Focus Reports division of The Freedonia Group. The report provides historical data on US shipments of grain-based foods by product category, along with forecasts in US dollars to 2020. In addition, the report discusses market drivers and constraints and provides profiles of leading companies competing in the US industry.

---
About the Author: Erica Keenan is a Research Analyst with Freedonia Focus Reports. She holds a bachelor's degree in biology and a master's degree in pathology, and has worked in the biomedical science and real estate industries as a scientist and research analyst.