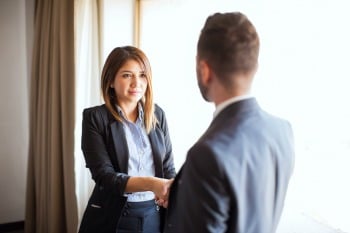 Companies are increasingly turning to staffing and recruiting companies to find qualified candidates and expand their workforce in a cost-effective manner.
However, recruitment is being disrupted by technology — creating a host of new changes and opportunities in the years ahead. Read on for a quick overview of the industry, and learn about top recruiting companies, trends, and challenges.
What Is the Recruitment Industry?
Recruitment refers to the process of finding new employees for an organization. HR departments often take on this role, but companies may outsource these functions to a staffing firm, headhunter, or recruiting agency in order to locate and hire qualified candidates. External recruiters list new job openings, screen candidates, and select and place staff within organizations. Recruitment may include both temporary and permanent staffing.
Recruiting Industry Statistics
The need for recruitment services is often linked to gross domestic product. As economic conditions improve and the demand for labor rises, the recruitment industry also expands.
The global recruitment process outsourcing market is forecast to grow at a compound annual growth rate (CAGR) of 17.66% from 2017 to 2021, according to a recent report by Technavio, a market research firm. This report is based on in-depth market analysis and insights from industry experts. Click to the report's abstract to learn more.
Top Recruitment Companies
Technavio identifies several leading recruitment companies, including the following:
ADP provides payroll and HR solutions such as talent acquisition, social and mobile recruitment tools, automated recruiting platforms, background checks, and electronic on-boarding.
ManpowerGroup is a $19 billion business serving 400,000 clients worldwide. It offers a number of workforce solutions such as recruitment process outsourcing (RPO), strategic workforce consulting, and more.
Randstad Sourceright is a global leader in RPO with expertise in recruiting strategies, employer branding, and talent analytics.
Alexander Mann Solutions delivers talent acquisition and management services in more than 80 countries, supporting clients with permanent, contingent, and executive talent needs.
Allegis Global Solutions is a managed services and RPO provider with more than 30 offices around the world.
Future Step delivers talent acquisition, employer branding, and executive search solutions across all major industries.
Hays is a leading British recruitment company serving 44 countries. Last year, it placed 67,000 permanent candidates.
Kelly Outsourcing & Consulting Group (KellyOCG) provides global talent management solutions, including consulting services, RPO, and business process outsourcing.
Read Technavio's report for a discussion of major vendors in the recruitment market.
Recruiting Trends: How Online Recruitment Is Evolving
Digital recruitment is rapidly changing alongside technology. Online recruitment has moved beyond internet job boards to include innovative capabilities related to social media, mobile technology, big data, and artificial intelligence.
Social media sites are a powerful tool for accessing information on potential candidates. Social media also enables recruiters to tap into a bigger talent pool by engaging passive job seekers. Approximately 87% of recruiters use LinkedIn to evaluate candidates, 43% use Facebook, and 22% use Twitter, according to a 2016 Jobvite survey that polled 1,600 recruiting and HR professionals across several industries in the U.S.
Mobile technology is a huge opportunity to reach job seekers while they're on the go, but 55% of recruiters still don't have mobile career websites, the Jobvite survey finds. Candidates use mobile devices to browse job opportunities, get email alerts, and research potential employers. Mobile apps and web designs also influence employer branding. Tech-savvy candidates may lose interest in a company whose website takes more than a few seconds to load onto their mobile device.
Big data can be used to sort through vast streams of data to find qualified candidates more quickly, predict hiring needs, and increase employee retention. Recruiters even use big data and predictive analytics to determine the willingness of employees to change jobs, by assessing their online behavior (and visits to LinkedIn and other job sites).
Artificial intelligence is another major recruiting trend. Artificial intelligence can be used to streamline the recruiting process, helping to identify the best candidates through the use of algorithms and advanced search technology. The AI company Connectifier, for example, crawls millions of websites to gather disparate information about people and create comprehensive profiles of potential job candidates. So far, its search index contains profiles for 400 million candidates. Connectifier was acquired by LinkedIn in February 2016.
Recruitment Market Challenges
Advances in technology create new opportunities, but they also open up new risks and problems.
Data security and privacy are key concerns going forward. Recruitment companies store huge quantities of sensitive data, including contact information, work history, and salary details. Security breaches could be devastating for recruiters and candidates.
High attrition rates are another market challenge, according to TechNavio's report. "Work pressure, monotonous work, other career opportunities, and organizational culture are the top reasons behind the increased attrition rates," the report explains. High turnover creates additional costs and eat away at overall ROI.
Interested in learning more about the global recruitment industry? Check out all our reports.

Other Articles You May Also Like:
---
About the Author: Sarah Schmidt is a Managing Editor at MarketResearch.com, a leading provider of global market intelligence products and services.