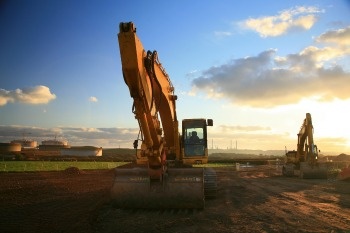 The construction equipment industry is a classic cyclical market, with pronounced ups and downs and the potential for significant year-to-year swings in demand. But even this pattern has been disrupted over the last eight years or so as the industry has struggled to come to terms with the immediate aftermath of the global financial crisis.
Recent Boom and Bust Cycles
Following a miserable year in 2009, there was a huge surge in sales in China driven by the government's near US$ 600 billion stimulus spending boom. The boost from China was enough to drive global equipment sales to remarkable levels, even as more traditional developed markets in Europe, Japan and North America reeled from the fallout of the crisis. Unfortunately, the boom in China was followed by an inevitable bust, and from 2012 to 2016 the improvement in other markets was not enough to offset plummeting sales in China. The global market was further depressed in 2015 and 2016 by low commodity prices, which directly impacted equipment used in mining as well as the wider economies of countries dependent on commodity exports.
These factors, along with generally weak economic around-the-world growth and a string of disruptive geopolitical events, have seen construction equipment sales fall from a high of just over 1 million units (with a value of US$ 102 billion) in 2011 to a low of 650,000 units worth US$ 69.8 billion in 2016. The downturn from 2012 to 2016 has been longer than the normal cycle for the equipment industry and the overall 30%-35% fall in sales has been deeper than would usually be expected.
A Return to Growth
Specialist management consultant, market research and forecasting company, Off-Highway Research, believes the worst is now in the past for the global industry, with retail sales of construction equipment expected to rise +8% in 2017. It will be the first time sales have risen in five years.
China has arguably been the most problematic market over the last five years, so it is significant that in 2017 it is expected to return to growth. However, even with the 13% rise in sales forecast for 2017, demand is still only some 30% of what it was in the boom years of 2010 and 2011.
Although it is less than half the size of the Chinese market, India is arguably a better bet. Equipment sales grew a remarkable 40% last year — it was one of the few countries in the world where equipment sales rose in 2016 — thanks to increased investment and a pick-up in project implementation in the country's infrastructure market. This is expected to drive consistent and steady growth in Indian construction equipment sales for the next five years, and as the industry matures, India could emerge as a significant regional manufacturing hub.
The mature markets of Europe, Japan and North America suffered a 3% fall in sales last year, with factors such as uncertainty in the run up to the US presidential elections and the UK's Brexit referendum harming business confidence. Growth is expected to return this year, particularly in Japan and North America, while the outlook in Europe is for a flatter market.
The long-term outlook for the global construction equipment market is for a period of moderate growth, which should see sales rise from the low point of 650,133 units in 2016 to around 810,000 machines being sold in 2020 and 2021 — a 25% increase in total.
In value terms, the market is expected to rise 28% over the same period, with sales increasing from US$ 69.8 billion in 2016 to US$ 89.3 billion in 2020. This reflects an expected resurgence in some higher value types of equipment over the coming years, most notably crawler excavators and rigid dump trucks.
The types of equipment included in the data cited in this blog are: articulated dump trucks, asphalt finishers, backhoe loaders, crawler dozers, crawler excavators, crawler loaders, mini excavators, motor graders, rigid dump trucks, rough terrain lift trucks (masted and telescopic handlers), skid-steer loaders, wheeled excavators and wheeled loaders.
Interested to Learn More?
View in-depth reports on the global construction equipment market by Off-Highway Research. Click to the publisher page for Off-Highway Research on MarketResearch.com to view its most recent reports. Select the "refine your search" button to browse specific keywords or titles.
---
About Off-Highway Research: Off-Highway Research specializes in the research and analysis of international construction, earthmoving, mining, industrial and agricultural equipment industries, and is the largest of its kind in the world. Reports are based on thousands of face-to-face interviews with industry participants and are regarded as the gold standard for the accuracy, depth of analysis, and insight they provide.
Related Reading