To provide direction and guidance for market research initiatives for the coming year, Unity Marketing recently conducted a year-end user needs survey across its client base. With over 100 respondents, primarily C-suite and marketing executives, as well as entrepreneurs, the survey included a number of questions that weren't specific to Unity Marketing. Rather, the results reveal the most pressing concerns for businesses of all types, especially those aiming at the affluent consumer segment — the top 20 percent based upon income. Here is what we discovered.
The Primary Business Challenge: Finding New Customers
Despite what the pundits say, the American consumer market is still under water. The average American household lost $4,000-$4,500 of spending power coming out of the recession. Middle-class consumers faced with dwindling incomes have to economize somewhere, so discretionary purchases are where they cut. This leaves companies looking for new prospects among customers interested in buying — and businesses interested in selling — goods and services people don't strictly need. Nearly 50 percent of the executives surveyed said finding new customers is their biggest challenge to growth.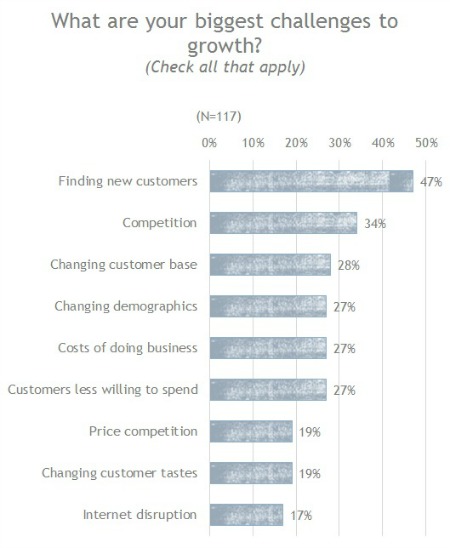 Where Are New Customers to Be Found?
Because the mass-market customer has little discretionary spending power, the affluent top 20 percent, especially the mass-affluent HENRYs (high-earners-not-rich-yet) with incomes $100k-$249.9k, are becoming increasingly important to marketers at all price points. Fortunately, in the current economy the number of households at the affluent level is the fastest growing segment, so businesses can target a rising tide of high-income customers.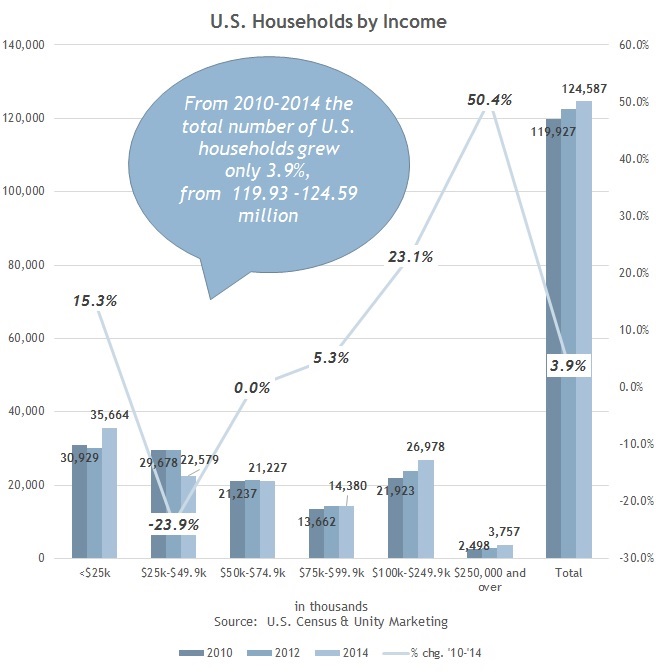 What Do Affluent Customers Want?
To go after new, more affluent target customers, businesses must understand their needs and wants. They must meet those needs and wants better than the target customers' current sources.
First, marketers need to understand the mindset, needs, and purchase behavior of affluent customers active in their specific product or services segment. There is little point trying to sell cooking tools to someone who doesn't cook or jewelry to affluent customers who don't have an interest in or history of buying jewelry. Businesses need to "fish where the fish are," and that is affluents active in a particular market segment. So businesses need research about the demographics of the affluent customers, what they are buying, how they decide on purchases, how much they spend, and what they value most in the category.
Next, marketers must develop a strategy and implement tactics to attract the best prospective customers, engage their interest, and convert them from the ways they have satisfied their needs in the past to the solution that the business seeks to offer. This requires a competitive strategy, the second business challenge for business executives Unity Marketing surveyed.
The Solution to Finding New Customers: Focused Actionable Market Research
Finding new customers in a changing, increasingly competitive environment is an overriding concern for business executives. Identifying the best prospects on which to focus is critical, as the customer base and its underlying demographics shift. These issues, compounded by the rising cost of doing business, are top business challenges.
Market research is a powerful tool to identify the best new customers (i.e. HENRYs with spending power). By understanding the consumers' needs better, businesses can beat the competition, make a connection, and build a loyal customer base that will mean growth for the business. What's more: focused, reliable, and forward-looking market research will make marketing efforts more effective, thus reducing the cost of business. Effective market research enables businesses to pinpoint the messages and mediums to deliver those messages to yield the greatest return on the marketing investment.
Market research into the affluent consumer segment, like that delivered by Unity Marketing through our partnership with MarketResearch.com, helps businesses stay ahead of the consumer trends and gain new perspectives about the high-potential target customers they hope to serve. This market intelligence is most valued for the demographic understanding that is brought to the fore, as well as marketing strategies that help businesses connect with affluent consumers more effectively.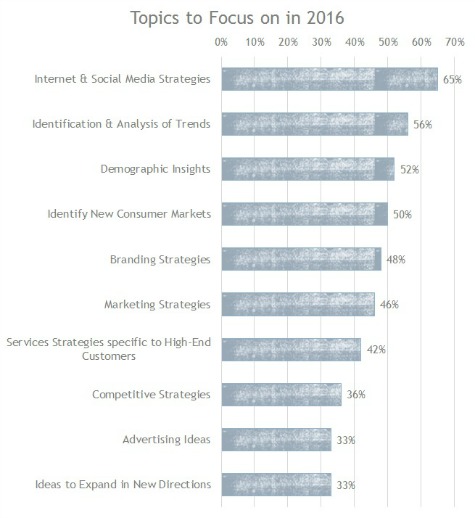 Going forward, Unity Marketing remains committed to delivering actionable market research to businesses seeking to find new customers. To be actionable, market research must be accurate, reliable, in-depth, authoritative, and forward-looking. That is precisely what Unity Marketing and MarketResearch.com plan to deliver in the coming year.
Get Up-to-Date Consumer Data and Analysis
Check out a variety of insightful reports by Unity Marketing to understand the trends in the current affluent consumer market. Consider these two featured reports:
To browse all Unity reports, click to MarketResearch.com.
Editor's Note
This post was written by Pam Danziger, President of Unity Marketing.
About Unity Marketing
Pamela N. Danziger is an internationally recognized expert specializing in consumer insights for marketers targeting the affluent consumer. She is president of Unity Marketing, a marketing consulting firm she founded in 1992. Pam received the Global Luxury Award for top luxury industry achievers presented at the Global Luxury Forum in 2007 by Harper's Bazaar. Luxury Daily named Pam to its list of "Women to Watch in 2013." She is a member of Jim Blasingame: The Small Business Advocate's Brain Trust and a contributing columnist to The Robin Report.
Drawing upon their extensive industry experience, as well as professional expertise in marketing research and analysis, product and concept development, strategic planning and licensing, Unity Marketing offers marketing research that helps clients identify and maximize their potential success in the collectibles and giftware markets. Unity Marketing utilizes a full range of quantitative and qualitative research to address its clients' marketing challenges.