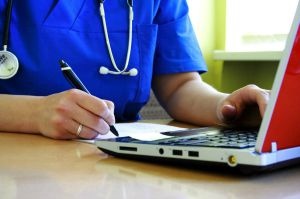 Healthcare is one of the most dynamic application of cloud computing. Although healthcare organizations are highly concerned about the privacy and security of patient data, the pressure of controlling the increasing healthcare cost has driven the adoption of cost effective solutions such as cloud computing. There has been a surge of interest of the healthcare companies in adoption of cloud computing. A report estimates cloud healthcare market will grow at nearly 25% through 2020.
Healthcare companies are looking to integrate and adopt IT to achieve greater business agility by increasing adaptability and achieving cost efficiency to enable focus on consumer needs and patient care. However, the traditional IT systems are struggling to meet these challenges and increase system effectiveness.
Cloud computing in healthcare is a typical pay-as-you-go service model that provides IT as a service to the healthcare organizations. These consist of core IT services such as infrastructure, software, development and deployment services and so on. The services are provided through private model and public model. In public model, data is stored and managed at service provider's end where as in private model, health organizations can have greater access and control over the data. However, due to highly sensitive patient data most health organizations are opting for a hybrid solution that enable security of private cloud along with cost effectiveness of public cloud model.
The exploding big data in healthcare is a major driver for healthcare cloud. Cloud companies can exploit the opportunities in the healthcare sector. For instance, a recent development is cloud-based medical imaging and information management solutions that enable healthcare professionals to view and interpret images such as X-rays, CT scans, and MRI scans simultaneously. This significantly reduces the long-term technology cost and increases the speed of patient care management.
Bring down the cost of data management for affordable health care
The high operating cost of the traditional healthcare information system is a huge concern before the healthcare organizations. The cost includes power, cooling, and data centre space, which often exceeds the benefits. The traditional healthcare information system places more focus on the maintenance of infrastructure and existing applications. However, use of a cloud-based platform enables the in-house IT team to focus on innovations while the maximum load of infrastructure is carried by the third party or cloud service provider. A recent report pegs about 25% of the healthcare organizations worldwide have virtualized their IT through cloud. However, healthcare organizations, which have virtualized their IT environments, report substantial savings from consolidating servers as a first step in their evolution to a cloud computing model.
To learn more about how big data is affecting the healthcare industry, check out some more of our research reports from Occams Business Research.
Editor's Note:
This post was written by Occams Business Research, a MarketResearch.com partner in research.
About Occams Business Research:
Occams Business Research (Occams) is a global provider of consulting and information services that combine data refining, expert analysis and application-based client focused reports. They are a team of industry experts and their trademark is relevant, detailed research reports with unsurpassed synthesis of data points into decision-making tools for the rapidly growing marketplace. These allow users to achieve returns on investment in a limited time frame.