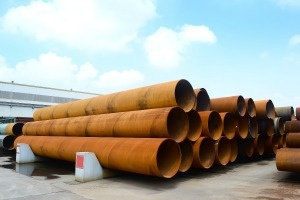 Though construction activity in China and some other developing countries has slowed since the 2009 to 2014 period, global demand for steel pipe is projected to advance 3.5 percent annually through 2019 to 79.7 million metric tons, according to a recent industry study from the Freedonia Group. Steel pipe sales are driven by the industries that use it. Read below as analyst Mariel Behnke explains.
"A number of different factors influence demand in each market. For instance, the oil and gas market is driven by energy demand, as well as oil prices and global political concerns," notes Ms. Behnke.
Construction expenditures boost demand for steel pipe used in conduit, sewer, and potable water applications, as well as demand for steel pipe used in structural applications. Manufacturing output supports demand for structural, mechanical, and original equipment manufacturing steel pipe, while investment in manufacturing facilities drives demand for industrial steel pipe.
Steel is the dominant pipe material in many markets, such as oil and gas production applications, where its strength gives it an advantage over most other materials; however, in other markets such as many construction and manufacturing applications, steel faces strong competition from other materials such as plastic, which have advantages including lower cost, lighter weight, flexibility, or corrosion resistance.
The steel pipe industry can be segmented into four markets: oil and gas; structural, mechanical, and original equipment manufacturing; construction; and industrial processing and other markets, which includes process manufacturing, other industrial, and agricultural applications.
Oil & Gas
The oil and gas market accounted for more than half of total steel pipe demand in 2014. Growth in exploration and drilling across the industry between 2009 and 2014 supported steel oil and gas pipe demand, particularly in the expanding North American market. However, the dramatic decline in oil prices between mid-2014 and early 2016 caused growth to decelerate significantly as plans for expansion of oil and gas production and exploration were scaled back. Aggregated growth through 2019 is expected to be much slower than in the previous five-year period.
Structural, Mechanical, and Equipment Manufacturing
The structural, mechanical, and equipment manufacturing market, which made up 32 percent of the total in 2014, saw the strongest growth between 2009 and 2014. It is expected to continue to see the most rapid growth of any market going forward, boosted by global manufacturing output, especially in developing markets.
Construction
The construction market for steel pipe experienced slower growth between 2009 and 2014, hampered by sustained low levels of construction activity in developed regions. However, the market is expected to see accelerated growth going forward as construction activity improves in developed regions such as Western Europe and continues to experience strong growth in many developing countries.
Industrial Processing
The industrial processing and other market for steel pipe accounted for 4 percent of total global demand in volume terms in 2014, with growth supported mostly by continued investment in process manufacturing activity. Construction of new manufacturing plants, particularly in developing regions, will be a major supporter of growth.
Interested to learn more? World Steel Pipe is a new study from the Freedonia Group, a division of MarketResearch.com. It offers historical demand data (2004, 2009, and 2014) plus forecasts (2019 and 2024) by application for six world regions and 19 major countries. You can access the study and more information through the website.
Corinne Gangloff
Media Relations Director
The Freedonia Group