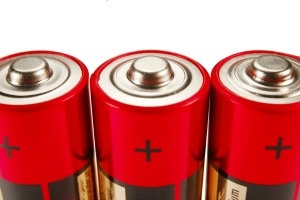 The global demand for battery materials is projected to increase 8.3 percent per year to reach $46.8 billion in 2019, according to a new report by the Freedonia Group. A variety of factors are contributing to the growing demand, including the proliferation of mobile phones and tablets, the rising use of motor vehicles in developing countries, and the increasing production of hybrid and electric vehicles.
Batteries are manufactured using a broad range of materials. The major types are metals, chemicals, polymers, carbon and graphite, silicas, glass fibers, paper, rubber, and ceramics. Globally, metals accounted for 66 percent of materials demand in 2014, due to the large volumes of lead, zinc, steel, and nickel used in the battery industry. Read on to learn more about the market for battery materials and what changes analysts expect to see in the coming years.
China Becomes the Largest Consumer of Battery Metals
The Asia/Pacific region accounted for 61 percent of world demand for battery metals in 2014. The Chinese market passed the U.S. to become the world's largest consumer of battery metals. However, the U.S. will remain a major metal consumer due to the size of the lead-acid and alkaline battery industries in the country. Favorable gains for metals will also be seen in Central and South America and the Africa/Mideast region, resulting primarily from strong gains in lead-acid battery manufacturing as motor vehicle production and use continue to grow in these areas.
Chemical Usage in Batteries Grows 9.5 Percent per Year
Chemicals used in batteries will continue to see stellar growth because of the amount of lithium chemicals used in Li-Ion batteries. Suppliers will also benefit from the healthy output of lead-acid batteries, which represent an important market for chemical products like lead dioxide and sulfuric acid. Additionally, increases in nickel-based battery output, particularly Ni-MH batteries, will drive growing demand for nickel chemicals, while manganese chemical demand will benefit from expanding alkaline battery production.
China continues to demand high levels of lead and lithium chemicals due to the country's production of lead-acid and Li-Ion batteries. Other countries in the Asia/Pacific region, including Japan and South Korea, are also leading consumers of battery chemicals. Like the battery metals market, the U.S. was the second largest market for battery chemicals. Though China will be the fastest-growing market for chemicals in batteries, rising production of alkaline and lead-acid batteries in Central and South America and the Africa/Mideast region will fuel strong gains in these areas as well.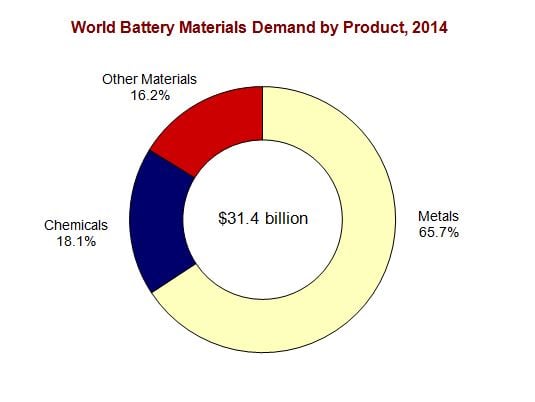 The Outlook for Polymers and Carbon/Graphite
Other materials used in a wide variety of battery types are polymers (battery cases and separators) and carbon/graphite products (active products and battery can components), as well as others such as glass fibers, silica, paper, and asphalt.
Polymer gains will be driven by strong increases in the production of lead-acid batteries, a key outlet for polyethylene and polypropylene, as well as silica and glass fibers. In addition, rising output of Li-Ion batteries will bolster gains for high-value graphite and polymers. Weakness in the zinc-carbon battery market will restrain demand for carbon materials. Zinc-carbon cells use low-quality carbon black in their construction, though, so this will have less of an impact on the market in value terms.
Where to Learn More
Industry Study, World Battery Materials, 389 pages, analyzes the global battery materials industry. It presents historical demand data as well as forecasts for 2019 and 2024 by type and application in 6 world regions and 16 major countries, with total demand also presented for 5 additional countries. The study also considers market environment factors, evaluates company market share, and profiles 46 industry participants worldwide.
Focus Report, World Battery Materials, 29 pages, presents data for 2009, 2014, and 2019. Product segments include metals, chemicals, and other materials. Major world regions include North America, Western Europe, Asia/Pacific, and all other regions.
These two reports are written by the Freedonia Group, a leading provider of reliable and unbiased market research reports and consulting services for more than 30 years.
Corinne Gangloff
Media Relations Director
The Freedonia Group