Because of the rapidly unfolding crisis related to COVID-19, The Freedonia Group has taken the unusual step of releasing an entirely new series of reports: COVID-19 Economic Impact Reports, which are produced by a team of economists and industry analysts.
Delivering quick insights in 20-25 slides, these data-packed reports provide up-to-date forecasts, industry-specific analysis of the COVID-19 impact, and historical perspective to compare the COVID-19 pandemic to other major events since 2000.
Jennifer Christ, Industry Study Manager at The Freedonia Group, helped lead the charge to produce these new reports. In the following interview, she explains the unique value these reports provide to clients during these turbulent economic times. Sample graphs are also included to illustrate the type of data available in these reports.
Why did you roll out this new report series?
There is a lot that is unknown right now, so we wanted to give clients some context for the current crisis. These reports provide a look at the most up-to-date Freedonia macroeconomic data as well as a peek at where we are in the current crisis. Then the current trends and business responses are compared with how the particular industry responded to other recent events with major economic impact (e.g., the tech bubble and 9/11 in the early years of the millennium and the 2009 global financial crisis, while global reports also consider the 2003 SARS outbreak and the European debt crisis that followed the 2009 financial challenge).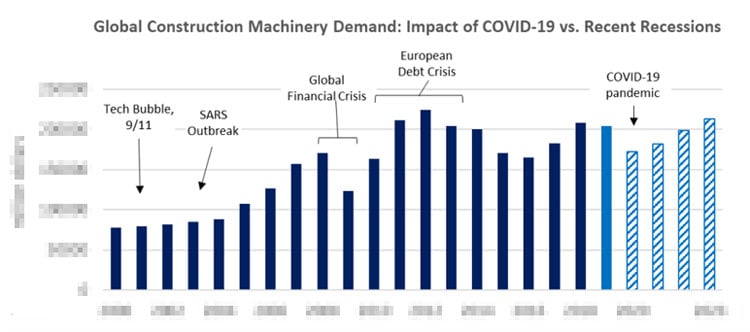 A sample chart providing historical data and forecasts on the global construction machinery market.
How are these different from Industry Studies?
These reports are in the form of a slide deck, so they are visually distinct, designed to be easy to read and easy to cut-and-paste into a client's own work. The data included is unique also; we include data back to 2000 for most of these reports as well as revised year-by-year forecast estimates to account for the effect of the COVID-19 pandemic.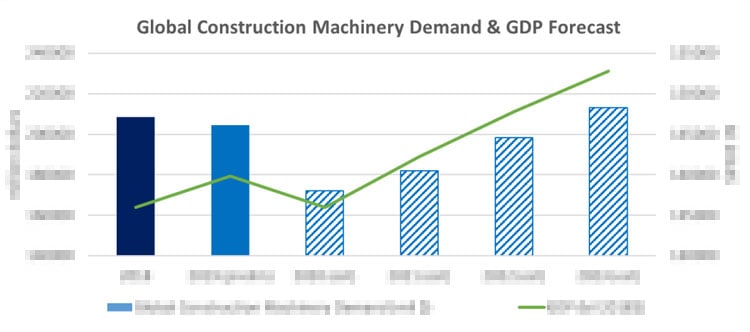 A sample chart with market demand and GDP estimates from 2018 to 2023.
How many of these reports have you released so far, and what industries do they cover?
We've released more than 45 of these reports so far. They cover all the spectrum of industries where we do full Industry Studies — from construction & building supplies to packaging to heavy industry to consumer goods.
Where can clients access these reports?
These reports are available on The Freedonia Group website, MarketResearch.com, and Profound.com as a full study purchase. They are also available on the Knowledge Center based on industry study category for those who have a subscription.
---
About The Freedonia Group: The Freedonia Group, a division of MarketResearch.com, is a leading international industrial research company publishing more than 100 studies annually. Since 1985 we have provided research to customers ranging in size from global conglomerates to one-person consulting firms. More than 90% of the industrial companies in the Fortune 500 use Freedonia Group research to help with their strategic planning.