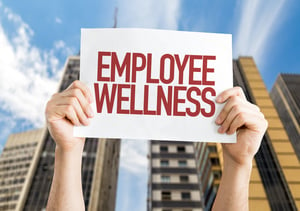 Would you be surprised to find a body weight scale, body mass indicator chart and height indicator in your office restrooms? What about an employer-sponsored counselling facility on site? Deloitte India offers these as part of its employee wellness program, and more and more global companies are following suite with similar initiatives to boost the health and productivity of their employees.
Johnson & Johnson, for example, has implemented exercise reimbursement, stress management training and life coaching. At various locations, company facilities also include volleyball courts, golf courses, and spin classes.
Until a few years ago, all these perks would have been unimaginable at many firms; however, it's another classic example of the shift in mindset of organizations and human resource managers who give importance to the mental and physical health of their employees as much as they would to their performance and growth.
The winds of change are visible, and corporate wellness is no longer a branding exercise but indeed a part of the policy and vision of an organization that truly values its workforce and believes their wellbeing is crucial to the development of the business. But it's also true that this is a new concept, and it's still far from seeing a complete acceptance across countries and businesses irrespective of their size.
The Global Corporate Wellness Market
If we look at some data and statistics, the global corporate wellness market is forecast to expand at a CAGR of 4.95% and will reach a value of USD 61.95 billion by 2023, from USD 48.66 billion in 2018, according to Netscribes' research. The North American region is likely to lead this growth in revenue, which is indicative of the rate of adoption in the region. Other regions like Europe, Asia-Pacific, Latin America, and the Middle East and Africa are still playing catch-up.
What could be the reasons for the inconsistency? While the North American market is fairly evolved and early movers when it comes to embracing the new, regions like Asia-Pacific — which with two of the world's most populous countries, China and India — is faced with myriad challenges native to the countries. Countries like China and India have a huge untapped talent pool which is rearing to join the workforce. Businesses are seldom struggling to find skilled resources, and hence retention is not always top priority, and erratic work hours are often the norm.
Having said that, in India the change has started to come notably in large and mid-size organizations. Particularly the health risk assessment segment of global corporate wellness programs is gaining popularity, with organizations arranging for mandatory yearly health checks for employees.
The ROI of Corporate Wellness Programs
Even though wellness programs are increasingly being used for the benefits of increased productivity, improved employee satisfaction, and decreased long-term costs, the infrastructure and maintenance charges that come along with running these programs more often than not discourages businesses from going for it.
The skepticism associated with the success of these wellness programs is another crucial reason for the low adoption rates as most of the times these programs are run in silos and employees miss the bigger picture. Seldom do organizations take any feedback from employees on how effective the programs were and if they have any recommendations. It all boils down to the buck spent and some social media buzz generated as a result of the activities in the program.
The lack of awareness about the real ROI poses an initial hurdles in the adoption of corporate wellness programs. However, with constant reinforcement and unwavering commitment, organizations can really make corporate wellness an important tool to sustain a healthy and productive workforce.
Where to Learn More
For more information, see the full report on the global corporate wellness market by Netscribes available on MarketResearch.com, which covers market trends, drivers, challenges, market revenue, value chain analysis, segment insights, regional analysis, and information on corporate wellness companies.
---
About the Publisher: Netscribes is a global market intelligence and content services provider that helps corporations achieve strategic objectives through a wide range of offerings, including market research, business intelligence, technology research and investment research.