Rivaling consumer electronics, clothing has become one of the most purchased physical products online in recent years. Clothing was also the leading category in global cross-border B2C E-Commerce in 2014, accounting for over a third of all cross-border online purchases. In China and Japan, online mass merchants and marketplaces have become the most popular platforms for consumers to purchase clothing. In Europe, clothing has been the leading category by share of online shoppers in countries such as the UK, Germany, Russia, Italy and Turkey. Clothing merchants stand to benefit from adoption of current market trends, including but not limited to: M-Commerce, Omnichannel and Cross-Border B2C E-Commerce. Those merchants currently operating purely online or predominantly store-based could seek to adopt these strategies in an effort to gain a share in the booming online clothing market.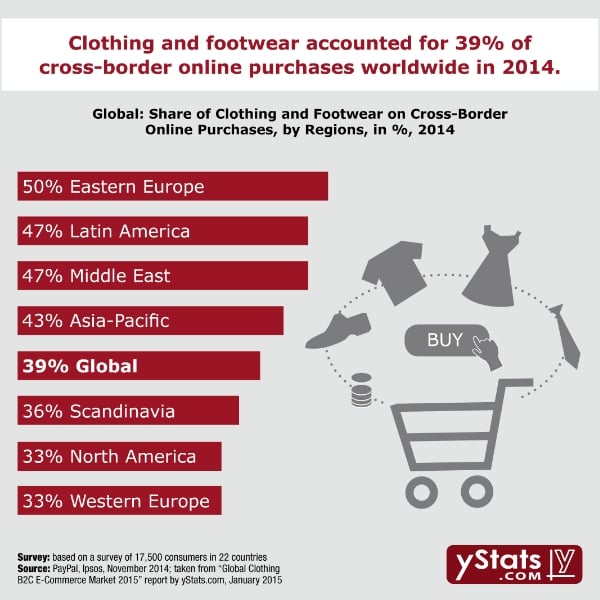 Both mobile and omnichannel strategies have become particularly important to clothing merchants, as many consumers worldwide are not just browsing online anymore. In fact, in the United States, the probability that a consumer will purchase clothing in-store after browsing online is approximately as high as the consumer purchasing online. Though mobile and online fashion shopping is, in fact, on the rise, store-based retailing still dominates the global clothing retail market. As described in a recent PwC survey, many consumers in Germany demonstrate no particular preference between shopping for clothing online or offline, and the majority claimed to have done both. In many countries, particularly the UK, click-and-collect options fuel sales of store-based merchants, creating an obstacle for online pure plays to overcome. Regarding the mobile channel, South Korea shows a worldwide example. In this country, M-Commerce accounts for over a third of all online sales of clothes.
Cross-Border B2C E-Commerce is of equally vital importance in the dynamic clothing market. Clothing is, in fact, the most traded online good in cross-border retail, reaching an approximate 40% of cross-border online purchases globally, according to PayPal and Ipsos. While consumers in Russia are purchasing from the UK and China, Brazilian consumers are purchasing from the USA, China and Japan. With cross-border online retail on the definitive rise, many clothing retailers could look to further incentivize these regions' consumers by means of offering direct shipping. Another targeted approach could involve localizing content on their websites. For an example of a well-executed cross-border B2C E-Commerce strategy, retailers need not look further than one UK-based online fashion retailer, which currently offers direct international shipping to over 200 countries, with free delivery on orders exceeding a particular minimum value.
Many clothing retailers can look to not only improve cross-border B2C E-Commerce strategies, but also could embrace an omnichannel approach to marketing. In an effort to drive sales for clothing merchants and continue to allow consumers to shop for clothing with ease, clothing retailers worldwide should look to increase opportunities for online and mobile browsing, with the convenience of in-store support and pick-up, unlimited delivery options and a seamless purchasing process, whether it's a click of a mouse, a tap of an app or the swipe of a card.
For more information about development of clothing segment in online retail worldwide, check out yStats.com's full report "Global Clothing B2C E-Commerce Market 2015". Or, browse other yStats.com reports on B2C E-Commerce and Online Payment.
Thanks for reading!
Editor's Notes:
This post was written by Tatiana Teplova, Research Analyst at yStats.com GmbH & Co. KG.
About yStats.com

yStats.com has been committed to research, up-to-date, objective and demand-based data on markets and competitors for top managers from various industries since 2005. Headquartered in Hamburg, Germany, the firm has a strong international focus and is specialized in secondary market research. In addition to offering reports on markets and competitors, yStats.com also carries out client-specific research. Clients include leading global enterprises from various industries, including B2C E-Commerce, electronic payment systems, mail order and direct marketing, logistics, as well as banking and consulting.
yStats.com is also available on Profound.com...
Purchase individual report sections for a pro-rated price. Visit Profound.com to learn more.