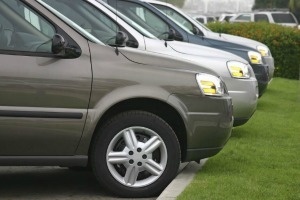 The National Highway Traffic Safety Administration and the Environmental Protection Agency issued new Corporate Average Fuel Economy (CAFE) targets in August 2012, which increased the fuel economy requirements of light vehicles to an industry average of 35.5 miles per gallon (mpg) for model year 2016. The expectation for CAFE in model year 2025 is about 50 mpg.
As light vehicle manufacturers continue to increase fuel efficiency, they are scrutinizing input choices, including sheet metals such as steel and aluminum, in an effort to reduce vehicle weight and fuel consumption. These shifts in the motor vehicle industry are of particular import to sheet metal suppliers; transportation equipment represented the largest market for sheet metal in 2015, and motor vehicle stampings account for a large portion of the demand.
CAFE Targets & Metal Choices
To meet the CAFE targets, automakers are producing lighter vehicles by turning to materials such as advanced high-strength steel (AHSS), aluminum, magnesium, and plastics. For example, according to the American Chemistry Council, over the 2005-2014 period, the total share of steel in light vehicles produced in the US and Canada declined, while the proportion of aluminum rose. In 2014, steel represented about 53% of light vehicle weight, a reduction from 55% in 2005. On the other hand, aluminum accounted for 10% in 2014, up from 7.8% in 2005. Despite the fall in the total share of steel, however, the share of medium- and high-strength steels rose from 12% in 2005 to 16% in 2014, a larger percentage point increase than for aluminum.
Steel
While motor vehicle manufacturers will continue to adopt lightweight materials to meet CAFE targets, large-scale substitution of steel will remain restrained by the product's cost competitiveness and desirable performance characteristics. The steel industry expects that more than 20 new AHSS grades will become commercially available in the 2015-2020 period to help motor vehicle manufacturers meet CAFE standards.
Aluminum
The light weight and strength of aluminum will support sales growth to motor vehicle producers, particularly for closures such as deck lids and hoods because incorporating them does not require the complete retooling of assembly plants. In addition, Ford is converting the body of its Super Duty pick-up trucks to aluminum for the 2017 model year, following the switch to an aluminum body for its F-150 that started in the 2015 model year.
Nevertheless, aluminum is not projected to displace steel as the dominant material in motor vehicles due to higher cost, among other factors. The F-150, for example, generates relatively high profits, allowing Ford to absorb the costs of utilizing an aluminum body. In addition, even though the F-150 employs an aluminum body, it retains a steel frame made from AHSS.
To learn more about US sheet metal markets, sales by metal type, forecasts to 2020, and historical data for the 2005-2015 period, see Sheet Metal: United States, a report published by the Freedonia Focus Reports division of The Freedonia Group.
---
About the Author: Leon Mengri is an Senior Market Analyst with Freedonia Focus Reports. He conducts research and writes a variety of Focus Reports, which offer concise overviews of market size, product segmentation, business trends, and more.