Each day the Research Specialists at MarketResearch.com help people find reports that best suit their business intelligence needs. If you're a business leader who has already experienced the process of finding and acquiring market intelligence on your industry, you may wonder what we can do to help you.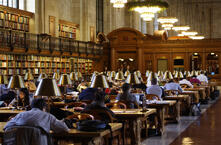 The answer is, plenty.
For starters, we bring an unbiased approach to identifying the research you need to make effective strategic decisions. Second, we help you minimize risks from the unknowns that can be part and parcel of finding and purchasing business intelligence reports, in particular, the possibility that a given report may not have exactly the methodology and data-sets of information that best suit your needs.
Here are some of the key reasons why people of all experience levels come to rely on us for support:

• Familiarity with the our database and publishers: when searching for information on an industry it is not only helpful to know what you are looking for, but how it is often described or categorized by the publishers. Many industries use multiple terms for the same information and if you choose to search by the wrong one, you could wind up with no results when there are in fact several relevant reports.
Also, many publishers are fairly consistent on how they structure the reports they publish. Knowing a publisher well can often lead to much faster qualification of a report being evaluated.
• Direct publisher pipelines: Many of the publishers we deal with had a dedicated representative that we can contact with information requests. As a result, even when a publisher is willing to take direct questions directly from a client, we are still able to provide those answers much more rapidly.
• Open document reviews: Because most of the reports we carry are hosted directly on our website, we are allowed to open those reports to answer questions about the content over the phone. So, we can confirm the presence of key information and provide detailed descriptions of how the tables and charts in the document are presented. This will allow you to get much deeper insights into what the report covers than just the table of contents or sample pages; we encourage you to ask questions about any aspect of the report.
• A new perspective: When searching for information, it is very common to approach the search from one angle and completely miss other ways to find the report you are looking for.
Here's an example of that dynamic:
Once, while helping a client, I was asked, "What is the cost for research laboratory supplies in the U.S.?"
We did not have any reports that provided that exactly that information. However, after a brief discussion, the client explained that he had a test tube with special properties and that his company was trying to determine the market size for those test tubes with special properties.
In the end, I was able to find a report on the market for test tubes that was a perfect fit. It was all a matter of looking for the information in a new way -- and of my ability to gently probe the client for details that led to the best solution.

So, even if you think that you would be fine searching for the information you need on your own, try giving us a call first. You may be surprised at what we can do.
Click below to learn more about our Research Specialists.

Rob Kaminsky
Research Specialist