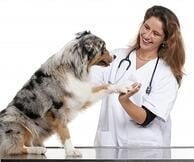 Pet industry statistics show that the more affection pet owners feel for a pet, the higher their levels of spending. Pet stores that welcome dogs inside, offering biscuits at the checkout are genuinely being pet-friendly—but it's no coincidence that those pet products are located at the cash register, the better to engage exactly the kind of pet owner who brings their pet to the store.
Packaged Facts' pet industry statistics bear out the relationship between the depth of the human/animal bond and the level of pet care spending. In recent pet owner surveys for example, in comparing the 61% of pet owners who strongly agree that their pets are part of the family to the minority 11% who strongly disagree, we find that:
Only 6% of pet parents buy low-priced pet foods, compared with 33% of those who don't consider pets to be part of the family.
Only 12% of pet parents are spending significantly less on pet products because of the economy, compared with 30% of those who don't consider pets family.
Only 19% of pet parents have skipped out on providing routine vet care for their pets within the past 12 months, compared with 67% of those who don't consider pets family.
Only 22% of pet parents have spent less than $25 in the last 30 days on pet products, compared with 40% of those who don't consider pets family.
The current proliferation of specialty pet products and services hinges on the "humanization" of pets. Thus the growth in products and services such as pet multivitamin pills, pet exercise toys and mind games, personalized cat litter box mats, and doggie daycare fees. (Charm City dogcare in Baltimore, for instance, even throws in special homemade treats on Mondays, to help dogs ward off those back-to-the-grindstone blues.)
Thus too the all-terrain puppy strollers, for new but well-heeled dog parents, or the heated massaging orthopedic wellness pets beds, which are especially soothing for dogs who are past their frisky days, often in tandem with their owners.
More traditional product categories, of course, also fully leverage the pet humanization trend. Thus pet food with gourmet flavors or natural formulations (Purina Chef Michael's Carvery Creations; Natural Balance Adult Turkey Formula, preserved naturally with mixed tocopherols that boost the immune system), pet treat label claims echoing those in the human snack aisles (high in EPA/DHA omega-3), and green tea leaf clumping cat litter.
Such products attract pet owners who want the very best for their pets, as befits members of the family. Among singles, couples with younger children, childless couples, empty-nest Boomers, and seniors—that is, a very wide range of pet owner demographics—the human/animal bond is a potent emotional and economic force.
With pets firmly embedded in our homes, it follows that pet wellness gets elevated to family health care status. Pet parents are not only willing but eager to invest in pet care both preventive and therapeutic that is directly beneficial to their pets' health. While in large part a function of the human/animal bond, the awareness of pet wellness issues has been amplified by demographic and societal trends, and particularly the growing seriousness about health issues including diet, weight management, lifestage nutrition, and the importance of exercise.
Although this trend is perhaps most pronounced among aging Baby Boomers, healthcare costs and access issues are compelling most of us to become more proactive about personal and household health.
For more evidence of the spillover of human health and wellness concerns into the pet market, consider the above-average market growth rates for these items:
Pet supplements.
Functional pet treats such as rawhide chew toys (for improving dental health.)
Pet medications.
Pet insurance, and a range of other directly health-focused pet care purchases.
Natural and organic pet products are also benefiting, as they are in the human products market, despite the bargain shopping strategies and high price sensitivity that characterizes consumer spending in the wake of the Great Recession.
Pet wellness dovetails with human health in other important ways, too. According to our Pet Industry Statistics 44% of pet owners strongly agree that their pets have a positive impact on their physical health (and another 33% somewhat agree).
Even more strikingly, 50% strongly agree that their pets have a positive impact on their mental health (and another 34% somewhat agree). Few persons, places or things can consistently pull down those sorts of numbers. With the possible exception of bulk chocolate, those special treats for Fido might just be the best health care expenditure going.
Thanks for reading!

David Sprinkle
Research Director,