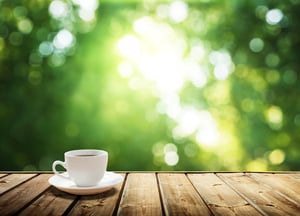 The U.S. demand for decking is expected to grow 1.3% each year to reach 3.6 billion lineal feet valued at $7.1 billion in 2023, according to a new industry study by The Freedonia Group. Here are a few key facts to know about this dynamic market.
1. Decking trends: Consumer interest in outdoor living continues to rise, which is good news for the decking market, as more people seek to expand their available living space and boost the value of their home with the addition of a deck. Homeowners are also showing interest in larger, more elaborate decks with pergolas, walls, water features, fire pits, and outdoor kitchens.
2. Market drivers: The demand for decking will be driven by growth in residential renovation and housing completions. In addition, as part of the outdoor living trend, more restaurants and hotels are expected to install decks to provide customers with appealing spaces to lounge and eat outdoors.
3. Decking demand by market: Residential accounted for 60% of the market in 2018, while the commercial market — including restaurants, hotels, resorts, and other entertainment venues — accounted for 9%. The nonbuilding market, which includes decks installed on lakeshores, marinas, and parks, accounted for 32%.
4. Decking prices: Because of increasing lumber costs and a shift toward higher end materials, average decking prices are predicted to rise.
5. Demand for plastic decking: The demand for plastic decking is projected to increase at a rate of 2.0% per year through 2023. Cellular PVC is expected to increase its share of the plastic decking segment. This material is not only low-maintenance and durable, it also offers the appearance and texture of natural wood. The demand for standard PVC decking for use on railings and other components is also expected to grow.
6. Increased interest in sustainable decking materials: Many state and local governments require the use of green materials in public construction projects, and this practice will support the use of lumber made from recycled plastic and wood fiber.
7. Leading companies in the decking industry: AZEK Building Products, Fortune Brands, Trex Company, and Westlake Chemical are top industry players to watch.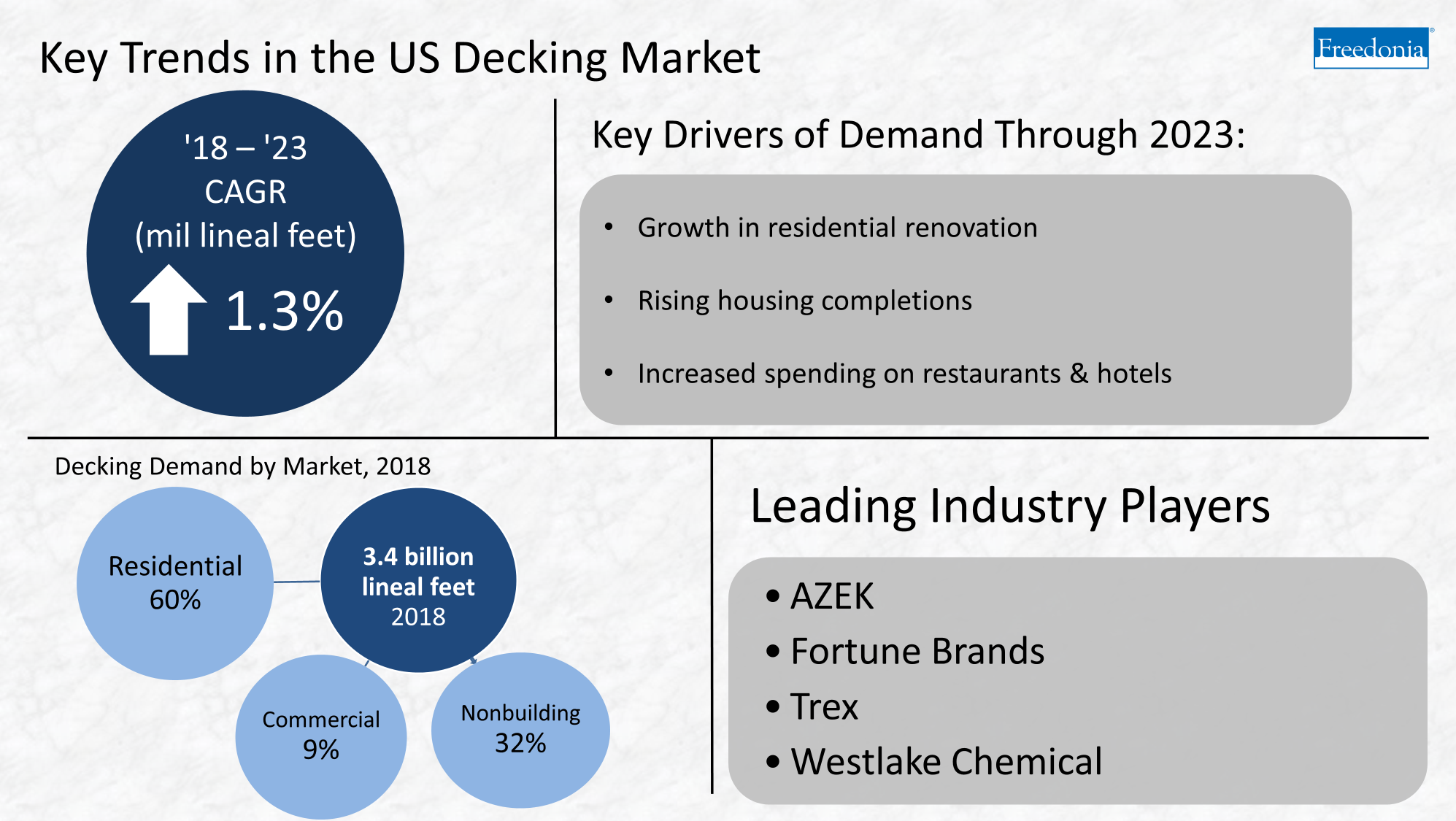 Find Out More
Need more decking market research? See The Freedonia Group's comprehensive industry study Wood & Competitive Decking, which analyzes U.S. demand for decking by product, market and region. The study also covers:
Foreign trade and tariffs
Historical market trends
Pricing trends
Market drivers and restraints
Industry structure
Visit the report page on MarketResearch.com to read the full abstract and learn more.
About The Freedonia Group
The Freedonia Group, a division of MarketResearch.com, is a leading international industrial research company publishing more than 100 studies annually. Since 1985, we have provided research to customers ranging in size from global conglomerates to one-person consulting firms. More than 90% of the industrial companies in the Fortune 500 use Freedonia Group research to help with their strategic planning. Each study includes product and market analyses and forecasts, in-depth discussions of important industry trends, and market share information.
---
About the Author: Sarah Schmidt is a Managing Editor at MarketResearch.com, a leading provider of global market intelligence products and services.