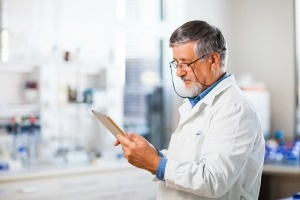 MarketResearch.com is a leading provider of business intelligence, offering users access to timely information about hundreds of industries. In partnership with Kalorama Information, MarketResearch.com provides high-quality research and analysis to key decision makers in life science firms.
Life science market research includes broad topics such as biotechnology, healthcare, pharmaceuticals, medical devices, and diagnostics. New and established companies need to be aware of influential changes that may alter how healthcare is delivered and the patient's experience and outcomes. Our white papers and market research reports explain the market sectors and healthcare trends that matter most. Below is a list of our latest white papers with insights into this rapidly changing industry.
Sizing Up the Opportunity in Lab-Developed Tests
The diagnostics industry is experiencing high demand for cancer screening testing services, and new tests are being developed all the time to meet patient needs. This white paper provides analysis for cancer diagnostic tests with a look at the market for lab-developed oncology tests, the companies participating in this market sector, and the top competitors and tests.
5 Cutting-Edge Trends in Molecular Diagnostics
Molecular diagnostics is one of the fastest growing segments in the clinical diagnostics industry. Molecular tests can be used in many different areas of laboratory medicine, including infectious diseases, inherited diseases, cancer, and more. This white paper looks at the five trends that are most important in today's molecular diagnostics industry.
3 Trends to Watch in Life Sciences
As the global population ages, more pressure is being placed on healthcare payers, providers, and suppliers to follow cost-efficiency guidelines. This white paper covers three of the biggest trends in life sciences that are changing the landscape of the healthcare industry:
Personalized medicine drives drug diagnostic partnerships
Next-generation sequencing moves into clinical applications
Molecular testing enters routine practice
Healthcare IT, Patient Monitoring & Telemedicine
The digital revolution in healthcare IT includes remote patient monitoring and telemedicine. This white paper answers some of the common questions surrounding advanced information technologies in the health field by looking at some of the drivers for the segment and explaining a few uses for these advanced technologies.
These are just a few of the free resources MarketResearch.com has available. Our resource center is a great place to find helpful tools, advice, how-to's, and insights into the market research process and major industries, including life sciences. Visit our resource center to check out all of our white papers and eBooks, slideshares, videos, and our other blog posts.
Thanks for reading!
Caitlin Stewart
Marketing Coordinator
MarketResearch.com