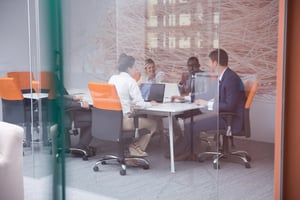 Continued growth in building construction and rising disposable income levels have boosted the demand for furniture in the U.S. in recent years.
The U.S. demand for furniture is expected to reach $68.8 billion in 2022, rising at an annual growth rate of 2.6% from $60.5 billion in 2017, according to the report Furniture: United States by Freedonia Focus Reports, a division of MarketResearch.com.
The report highlights a variety of influential furniture trends to watch, from growing interest in eco-friendly furniture to the rise of e-commerce.
1. Increased Interest in Eco-Friendly Furniture
Sustainability has become an important topic in many different industries, and furniture is no exception.
"Furniture manufacturers have been influenced by business and consumer interest in green products and an increased focus on sustainability," the report notes.
To reduce environmental impact, furniture can be made with recycled materials or more sustainable woods such as acacia, bamboo, or reclaimed wood.
Some well-known furniture brands offer product lines that promote sustainability. For example, Pottery Barn offers reclaimed wood furniture made with salvaged materials, and Crate & Barrel sells furniture with frames that are certified by the Forest Stewardship Council.
2. More Flexible Workspaces
As technology has evolved, employees are no longer tethered to their desks, and workplace designs and office furniture have changed significantly as well.
Cubicles and private offices have given way to office environments with flexible workspaces where employees can work in groups of different sizes, and in some cases, share workstations rather than have assigned seats. This type of arrangement can help accommodate a fluctuating workforce that includes remote workers who may not come into the office every single day.
For example, the Locale line of furniture by Herman Miller provides workbases that serve as anchoring points and mobile elements that allow people to move from individual work to collaborative activities as needed.
3. Obesity and the Need for Larger Furniture
The need for flexible workspaces isn't the only factor changing office furniture designs. Obesity is another factor that businesses must keep in mind.
About 40% of U.S. adults are obese, up from 15% in 1990. These rising obesity levels have had an impact on furniture design, particularly for office chairs, as businesses strive to accommodate larger body sizes in both dimension and weight.
The typical office chair is designed to hold up to 300 pounds, while bariatric chairs can hold as much as 600 pounds. Bariatric chairs are often made with taller chair backs and wider seats and bases.
4. The Growth of Online Furniture Sales
Perhaps the most notable and disruptive shift is the rise of e-commerce in the furniture industry. Projections cited in the report E-Commerce: United States expect furniture and furnishings to be the fastest-growing segment of e-commerce sales through 2022.
As part of the "Amazon effect," the retail market is shifting increasingly online through popular sites like Wayfair, Overstock.com, and Joss & Maine. Younger consumers, such as millennials, are more willing to buy items online because of the convenience, even if they can't see and feel the products ahead of time.
A variety of new direct-to-consumer furniture companies target online millennial shoppers, including Yardbird, BenchMade Modern, Burrow, Article, and Joybird (which was acquired by La-Z-Boy).
Where to Learn More
For more furniture market data and analysis, see the following Focus Reports, which feature a user-friendly format with concise text and helpful data visualizations:
These reports are not only quick to read, but they are also based on robust methodologies and offer a nuanced perspective that only experienced expert analysts can provide.
About Freedonia Focus Reports
Published in 20-30 pages, Freedonia Focus Reports provide fresh, unbiased analysis on a wide variety of markets and industries.
Analysis is intended to guide the busy reader through pertinent topics in rapid succession, including:
total historical market size and industry output
segmentation by products and markets
identification of market drivers, constraints, and key indicators
segment-by-segment outlook in five-year forecasts
a survey of the supply base
suggested resources for further study
Browse through the latest Focus Reports on MarketResearch.com.
---
About the Author: Sarah Schmidt is a Managing Editor at MarketResearch.com, a leading provider of global market intelligence products and services.