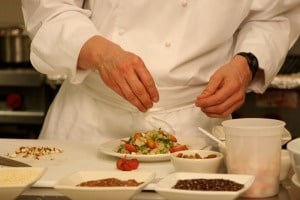 In the past several years, the foodie movement in the U.S. has grown tremendously. One of the biggest crazes restaurants and retailers have seen is the desire for new and exciting food products and experiences. But which top food trends are American consumers seeking in 2016?
With help from industry expert Packaged Facts, we have written a blog post focusing on four key food trends that are driving the industry this year. Read on to learn how these trends are shaping consumer preferences.
1. "Better for You" Snacking Reaches New Heights
The diet of Americans has evolved in recent years, and health concerns are top of mind for many consumers. Snacking between meals reached an all time high in 2015, with two-thirds of adults claiming to snack often between meals. For many adults and children, snacking throughout the day has replaced traditional big meals.
According to the report Salty Snacks in the U.S., Fourth Edition, Americans are still craving salty treats even though their focus is on health. Sales of salty snacks increased 3.5 percent in 2015, reaching $22 billion. Healthy salty snacks have been introduced, with products such as ready-to-eat popcorn allowing consumers to enjoy an indulgence guilt-free.
Although healthy snacks are a priority, consumers haven't forgotten about their sweet treats. Americans can't live without their cookies, cakes, doughnuts, muffins, and other sweet baked goods. According to a report, over 40 percent of snackers admit to eating sweets.
2. Asian Noodles Gain Ground
It is becoming more common for consumers to try new and exotic foods when dining out. Asian noodle dishes have become the perfect dish to allow consumers to try new foods. Many restaurants have taken an authentic approach to their Asian noodle dishes, but innovation has played a key role in the development of menu items. Although these dishes are not new, the potential is great with new menu items appearing on both mainstream American and non-Asian ethnic menus, exposing these dishes to more diners.
3. Growing Interest in Plant Proteins and Natural/Organic Meats
As more Americans embrace the lifestyles of flexitarians, vegetarians, and vegans, we are seeing more consumers focus on the environmental and economic issues associated with meat consumption.
The market for plant proteins is allowing many Americans to realize they no longer need to depend on animal-based protein sources. In the U.S., 37 percent of consumers ages 25 to 39 are likely to seek out plant proteins. Based on a survey by Packaged Facts, half of respondents noted that they have eaten less meat in the past several years. A third of respondents said they are eating more meatless meals than in the past, and 15 percent avoid red meat all together.
Lower consumption of meat and poultry is waking up retailers and foodservice operators to this new trend. According to the report Meat and Poultry: U.S. Retail Market Trends and Opportunities, industry transformations are already underway. Grocers and restaurants are seeking out meat and poultry products that meet health and wellness standards. Many small groceries and large supermarkets are featuring locally produced meat and poultry products and focusing on including "free-from" products that consumers want.
4. An Emphasis on Avoided Ingredients
With many Americans focusing on how their bodies reacts to certain ingredients, the food industry is making billions off of gluten-free foods, non-GMOs, and ancient grains.
Those with gluten intolerance and celiac disease have benefited greatly from the gluten-free options in restaurants and grocery stores. In the report Gluten-Free Foods in the U.S., Fifth Edition, Packaged Facts found that more than half of consumers have noticed a significant increase in the range of gluten-free products available in stores. The correlation of consumers that purchase gluten-free products in stores and at restaurants is high, with 15 percent of consumers saying they have chosen a gluten-free product while dining out within 3 months of buying gluten-free products at a store.
Non-GMO items are also making their way to the top of grocery lists. Packaged Facts estimates that retail sales of foods and beverages identified as non-GMO were approximately $200 billion in 2014. Analysts expect that non-GMO food and beverage retail sales will increase 65 percent, reaching $330 billion by 2019. Marketers are taking advantage of this trend by marking many items non-GMO, including products that have not ever been sold with GMOs, such as organic products and even salt.
Lastly, we found a popular ingredient being used at home and at dining establishments: ancient grains. The ongoing appeal of ancient grains such as quinoa is linked to the non-GMO and gluten-free trend. But, many recipes are also using them simply because of their ability to add visual, flavor, and textural appeal. Ancient grains are continuing to become popular and find their way into a number of product categories, from beverages to sweets.
Future Food Trends
The food industry is continuing to experience changes as new trends emerge and consumers try and demand new products. Staying on top of these changes is crucial for both food retailers and food establishment operators. To learn more about analyzing food trends to create business opportunities, download a free white paper from Packaged Facts titled How to Idenitfy Food Trends.
Thanks for reading!
Caitlin Stewart
Marketing Coordinator
MarketResearch.com