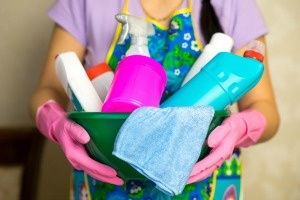 Can marketers persuade mainstream consumers to buy eco-friendly cleaning products? It's been a real challenge for mass brands like Clorox, Arm & Hammer, and Windex in recent years. After growing at a rapid pace through 2010, the market for green household cleaners and laundry products declined at a compound annual growth rate (CAGR) of 2 percent from 2010 to 2014. With insights from industry expert Packaged Facts and its new report Green Household Cleaning and Laundry Products in the U.S., 3rd Edition, we have identified three key factors that are contributing to the drop in sales.
1. Green household products is still a niche market.
The green market still remains a niche, accounting for only 3 percent of the total household cleaner and laundry product market. Penetration of green household cleaners was 3.7 percent in 2014, while the penetration of green laundry products was only 2.4 percent. Hard-core green consumers have continued to purchase eco-friendly household products, helping to keep the market afloat, but these consumers only represent a relatively small part of the U.S. population. Unless more consumers make the switch to green products, this will likely remain a niche for some time.
2. Eco-friendly products are too expensive for the everyday consumer.
Nearly 75 percent of respondents to the Packaged Facts survey feel that green cleaning or laundry products are more expensive than regular products. About the same percentage of respondents said they would purchase them more often if they were more affordable.
Unfortunately, Packaged Facts also found that prices for green household cleaners increased by a CAGR of 8 percent from 2010 to 2014. Increased prices reflect the declining sales of lower-priced mass brands, and increased sales of higher-priced traditional green brands. Most American consumers will not want to buy green cleaners on a regular basis if they are too expensive or if the effectiveness comes into question.
3. There have been fewer new product introductions.
Most recently, there have been fewer new product introductions to the market. New introductions of products were frequent through 2009 and the beginning of 2010, with many key industry players participating in the green craze, such as Clorox Green Works and Arm & Hammer Essentials. Between 2010 and 2012, there was a slowdown in activity, but a resurgence of activity by traditional green manufacturers such has Method and Seventh Generation. Since then, activity has declined as sales have stalled and the market has matured and become somewhat saturated.
What can manufacturers and retailers do to increase sales?
Manufacturers and retailers of green cleaning products need to market their brands and products in ways similar to makers of non-green products. One of the most important steps is to earn the credibility and trust of their consumers. More U.S. consumers are learning about the benefits of being green and using environmentally friendly products, but that doesn't mean they are willing to purchase green products consistently.
There has been a lack of standards for green products, and manufacturers need to try and secure as many third-party endorsements as possible. Higher prices, efficacy, and skepticism have created hurdles in this market that manufacturers need to jump through to prove their products are what they claim to be, that they work, and most importantly, that they are safe.
To get more forecasts on a broad range of household products, download MarketResearch.com's new e-book House and Home: 27 Top Trends and Predictions.
Thanks for reading!
Caitlin Stewart
Marketing Coordinator
MarketResearch.com