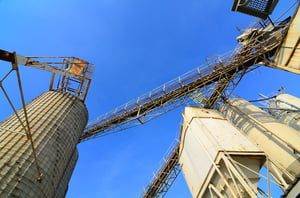 According to Global Cement, a recent study from The Freedonia Group, a division of MarketResearch.com, the worldwide cement market is expected to inch its way back to growth after a period of marginal declines from 2013-2018.
Check out a few of the key factors expected to influence the industry through 2019 and beyond.
1. Chinese Cement Market Contraction Through 2023
Though China represented more than half of total global cement demand in 2018, the country's growth prospects over the next few years are dim. Through 2023, China's global cement market is expected to contract, a decline precipitated by slowdowns in the economy and construction activity. Furthermore, the modernization of Chinese construction processes will limit cement demand, as efficiency improvements in cement manufacturing, transportation, and on-site installation processes are expected to reduce the intensity of usage.
Even so, China's recent Silk Road initiative (also referred to as the Belt and Road Action Plan), ought to help offset at least some of these issues. As currently laid out, the project represents a planned investment of nearly a trillion dollars in new roads, bridges, and infrastructure, with an eye toward optimizing trade routes into Africa, Europe, and other countries.
2. Infrastructure Projects in Developing Regions
Excluding China, the global cement industry is poised to enjoy more vigorous growth, buoyed in part by expanding construction activity and infrastructure investment in developing regions with rising urbanization rates.
According to the Freedonia report, nonresidential and nonbuilding infrastructure projects like roads and bridges will represent the best market expansion opportunities in these areas, particularly in growing economies like India, Nigeria, and Pakistan.
3. Cement Manufacturing Companies Respond to Environmental & Regulatory Concerns
Cement is an extremely energy-intensive manufacturing industry, and as such has found itself the target of increasingly stringent environmental regulation, especially in wealthier developed regions like the U.S. and the EU. To adhere to new emissions standards, manufacturers in this sector are working to increase the energy efficiency and environmental footprint of their operations. Specific measures include:
transitioning from wet-process manufacturing (wherein water is added to other raw materials prior to feeding the mixture into a kiln) to more energy-efficient dry-process manufacturing (raw materials are ground, mixed, and fed into the kiln in a dry state)
investment in carbon capture and storage technology, which has been piloted at facilities operated by industry leaders like HeidelbergCement and LafargeHolcim
A number of cement producers have also introduced more environmentally friendly products and processes to their catalogs, among them:
Eco-Cement: A cement blend from Australian firm TecEco that incorporates reactive magnesia and is engineered to trap carbon.
Solido: A cement blend from LafargeHolcim's Holcim Philippines subsidiary that features reduced clinker content, ensuring a better environmental profile than standard cement.
Synergia: An eco-friendly production process pioneered by Canada's Ciment Québec, Synergia substitutes industrial wastes (such as silica fumes or fly ash) for clinker, thus reducing the carbon footprint of the resulting cement and removing the waste materials from the waste stream.
---
For More Cement Industry Analysis
Looking for additional insights on the global cement industry? Check out Freedonia's recent study Global Cement, which outlines the global market for cement by product, major region, market, and end user; and presents historical data and demand forecasts in metric tons. The report also includes:
International production, pricing, and trade trends
In-depth profiles of leading industry participants, including market share, recent restructuring activity, and key product innovation
118 tables and 103 figures, available in Excel and PowerPoint
Click the button below to view the full report page.
---
About The Freedonia Group: The Freedonia Group, a division of MarketResearch.com, is a leading international business research company that serves more than 90% of the industrial companies in the Fortune 500. Freedonia's analysts are frequently quoted in a wide range of publications including Aftermarket Business, Forbes, The Economist, Tire Business, and The Wall Street Journal.
Additional studies covering trends in the construction industry are available from Freedonia's Construction & Building Products research group.