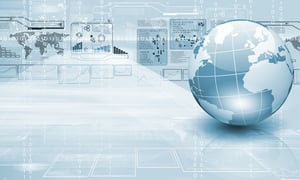 Growth forecasts have slipped, trade disputes abound, and geopolitical tensions are escalating.
In these conditions, executives at multinational corporations have "less certainty on the future demand and regulatory environments than at any time in the previous decade," according to analysts at DuckerFrontier, a market intelligence and consulting firm headquartered in Washington, DC.
To help firms adapt and win in 2020, DuckerFrontier released a series of global and regional outlook reports that are available for download on MarketResearch.com. Key predictions are highlighted below along with links to the full report descriptions, where sample pages are also available.
Although the global economy could transition into a slowdown, DuckerFrontier expects more gradual but broader global growth in 2020. Exports and industrial production are expected to stabilize, even while trade wars remain a drag on the economy. Due to significant downside risks, firms should approach 2020 with caution.
A variety of factors could prevent a eurozone recovery, including ongoing trade wars, a sharper downturn in China, political turmoil in Italy, and a no-deal Brexit scenario. DuckerFrontier predicts that manufacturing will struggle in 2020, but other sectors such as consumer, services, and construction could be sources of strength.
For Central European markets, analysts predict "softer external demand, tight labor markets, and a decline in private investment growth will lead to a notably softer expansion in 2020." Positive drivers include domestic consumption and wage growth, a new election cycle, and EU funding to support investments.
Businesses operating in this region face a complex market environment influenced by US-Iran tensions; war in Yemen; uncertainty in Lebanon, Algeria, and Israel; and difficulties in Syria, Iraq, and Libya. However, Qatar, Morocco, Kuwait, and are expected to remain stable.
"Opportunities abound for MNCs to accelerate business in Sub-Saharan Africa by expanding in high-growth markets and capitalizing on new opportunities across a diverse array of industry verticals," according to DuckerFrontier. However, corporations must plan for downside factors that could weaken sales performance and profit margins.
The APAC has strong fundamentals for continued growth, but economic uncertainty is increasing, especially for China. DuckerFrontier believes that China is unlikely to agree to US demands in trade talks, and in response, the US will only increase pressure. As a result, China will become less hospitable for multinational corporations based in the US.
Looking back on Latin America in 2019, companies have outperformed 2018 but missed targets. DuckerFrontier doesn't expect 2020 to look much different than 2020. Most countries will perform at 2019 levels, with flat commodity prices and high exposure to trade and policy disputes.
---
DuckerFrontier is a market intelligence and consulting firm that provides tailored solutions to drive growth for clients across the B2B, healthcare, consumer, and technology sectors. Their dedicated teams serve as advisers to clients, delivering the market and industry knowledge they need to succeed at all points in the business cycle. Continuous research & insights, custom solutions, and transaction support services provide clients with timely, actionable insights to adapt and win in changing markets. The company is headquartered in Washington, DC, with offices in Troy, Mich., New York, London, Paris, Berlin, Singapore, Shanghai, and Bangalore.